Mental health in lockdown: Friendly Places Online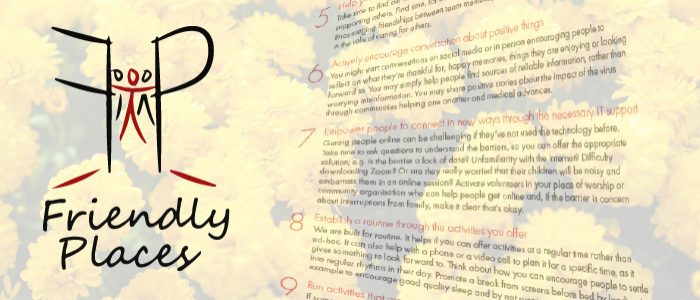 Perhaps it is unsurprising that the past 12 months—a time of so much change, uncertainty and tragedy—has seen an increased concern for the mental health of our population. We've all experienced alterations to our normal routines, national lockdowns limiting in-person contact with one another, and the threat—or reality—of the loss of our loved ones to disease. Whilst it seems that the younger generation have been hit particularly hard—the Prince's Trust and Tesco Youth Index recently reported that 1 in 4 young people have admitted to feeling "unable to cope with life" since the pandemic began—in one way or another, the mental health implications of COVID-19 concern all of us.
So what can be done? If the full impact of the pandemic on mental health remains to be seen, faith-based organisations can certainly play an important part in supporting the nation's recovery. At FaithAction, we've long been aware of the ways that faith groups can help people struggling with their mental health, and our Friendly Places pledge—a commitment for faith centres and places of worship to become safe spaces for those struggling—is a useful tool to this end.
Some of the 300 Friendly Places adopters have been getting in touch with us to let us know how they have been supporting their communities during lockdown. It's been immensely encouraging to read their responses, and we're excited to share them with you, kicking off today with Transforming Communities Together in the Black Country. It's a great example of how a service has been able to adapt and innovate, and it proves "friendly places" are alive and well even if they cannot open their doors in quite the same way.
Which brings me to another FaithAction resource: our "Top Tips for Friendly Places in Lockdown".
After many weeks of online calls last year, we began considering how we might make this online space as helpful as possible for people with mental health needs. Do make use of these suggestions, and we'd love to hear how you get on. Is there anything you would add to our list? Anything you've found particularly challenging? Sometimes the simplest changes and interventions can make a world of difference.
We may indeed be in the midst of uncertainty and tragedy, but having worked with faith groups for years we know that some of the hallmarks of faith-based social action are consistency and longevity. The way that we run our services may have adapted, but we've been offering support long before Covid-19 and will continue long after. When it comes to addressing mental health, these qualities are vital, and they are precious commodities in these times.