Creative English for Health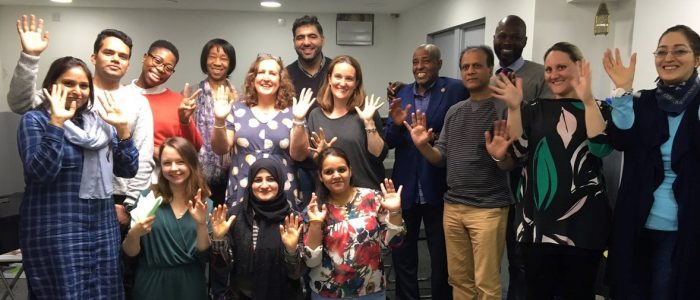 Expanding on the longstanding work of Creative English, Creative English for Health is a health literacy programme that empowers those with limited English language skills to get the healthcare support they and their families need.
Built around the same drama-based methodology, Creative English for Health achieves all of the outcomes at the heart of the original Creative English programme—confidence, friendship, and belonging—while also equipping learners to navigate the health system and communicate their needs effectively.
FaithAction were first funded to deliver Creative English for Health by Birmingham City Council in 2022 in recognition of the correlation between low English language proficiency and poorer health outcomes in the city. In response, we developed new Creative English sessions dealing with key health topics—such as emergency services, child nutrition, vaccinations, screening checks, and wider determinants of health such as housing issues. In partnership with 11 faith-based and community organisations across Birmingham, Creative English for Health was delivered to over 750 learners in its first year.
Those who completed 10 or more sessions of the programme reported significant improvements across a wide variety of recognised health literacy statements, such as:
For more information, see our external evaluation report (to be released July 2023).
Following a successful first year of Creative English for Health, FaithAction were asked to develop a second year of the programme, this time focused on cardiovascular health. Alongside this, FaithAction have been in discussion with several other public health officials around the country about rolling out similar programmes tailored to the specific needs of those regions.
We are also developing a licenced version of Creative English for Health, which individual community hubs will be able to purchase in place of the standard Creative English licence, or as additional material to accompany the original programme.
If you have any questions about Creative English for Health, would like to fund or deliver the programme in your city, or purchase a licence, please contact Matt at [email protected] or complete the contact form below.
Creative English—laugh your way to confident English!
Designed using Dr Anne Smith's PhD research into belonging, Creative English helps learners build confidence in spoken English whilst making friends, improving their wellbeing, and reducing social isolation, primarily amongst communities typically considered hard to reach. The programme equips people to engage confidently in everyday activities many of us would take for granted, such as going shopping, talking with teachers, and visiting the doctor.
To find out more about our Creative English programmes, please see www.creative-english.org.uk