Creative English for Health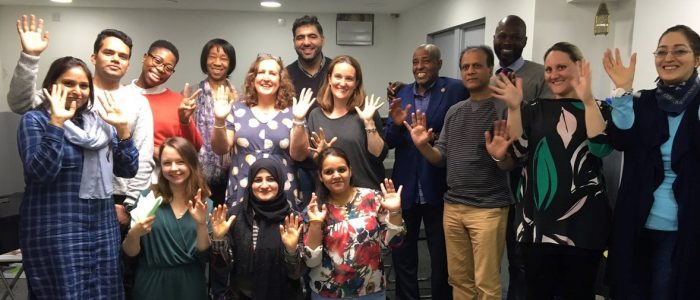 FaithAction have recently been awarded funding by Birmingham City Council to deliver our community-based ESOL programme, Creative English, with places of worship, faith-based and community organisations within Birmingham.
Laugh your way to confident English
Designed using Dr Anne Smith's PhD research into belonging, Creative English helps learners build confidence in spoken English whilst making friends, improving their wellbeing, and reducing social isolation amongst communities typically considered hard to reach. The programme equips people with the skills to empower them in their everyday life, built around various relevants themes, such as going shopping, talking with teachers, and visiting the doctor.
Following the pandemic, the public health department of Birmingham City Council recognised that there was a need for better messaging and access to healthcare within certain communities. In response to this, we crafted a new form of Creative English specifically designed to respond to this issue.
With newly-developed sessions dealing with key health topics—such as emergency services, housing issues, child nutrition, vaccinations, screening checks, and more—we know that Creative English for Health can support and empower people to access the healthcare they really need.
Organisations chosen to deliver the programme will receive a funding of up to £5,000 to support delivery, training for their volunteers to deliver the course in targeted areas until March 2023, along with a resource kit full of materials to use in sessions.
Please note there are only limited spaces available on the programme at this time.
Online Discovery Event, Thursday 21st July, 11:30am
We're running another session! If you're interested in delivering Creative English for Health in Birmingham, take part in our online session where you can find out more about the programme and the funding available as well as have the chance to ask questions!
Get in touch with us below to join!
If you'd like to join our Online Discovery Event or just want more info, leave us your details below or get in touch with Charlie by emailing [email protected] or by calling 07858 968 332 (Tue-Fri).