Collaboration turbo-charged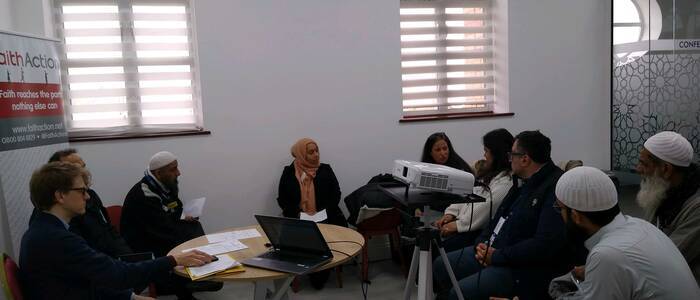 "…in terms of addressing health inequalities … partnership working and trust-building … we probably achieved more in the last three years than we have in the last ten."
So said the leader of a faith-based organisation in Yorkshire last year, when I asked her about partnership work between health agencies and faith groups during the pandemic.
This isn't an isolated opinion. It is widely documented that the COVID-19 pandemic saw a sharp increase in partnership working across sectors – that is, between faith groups, NHS trusts and integrated care systems (ICSs), councils and public health teams – and this partnership work was instrumental to understanding and tackling some of the inequalities that plague UK society.
The Keeping the Faith reports from the All Party Parliamentary Group on Faith and Society showed that 67% of local authorities reported an increase in partnership working with faith groups from the start of the pandemic. Our own First In, Last Out report explored the many innovative ways faith groups relieved pressure on ICSs and hospital trusts during lockdown, whilst Challenge, Innovation, Friendship, produced as part of the VCSE Health and Wellbeing Alliance,explored key themes of successful partnerships during this time.
As members of the VCSE Health and Wellbeing Alliance, our projects this year focus on producing a pregnancy and maternity inequalities toolkit for faith leaders, implementing and evaluating a social prescribing champions pilot with faith and community groups and co-producing a suicide prevention faith and cultural literacy tool for frontline workers.
These projects are carried out in partnership with policy leads across the Department of Health and Social Care, NHS England and the UK Health Security Agency. The collective mission of the Health and Wellbeing Alliance is to enable policy, commissioning and provider organisations to design services and support based on the needs of people and communities who face disadvantage and exclusion. You can find details of over 50 projects that our partners in the Alliance are doing here.
But if partnerships between faith and health were "turbo charged" during the pandemic, are we now taking our foot off the pedal?
One faith leader reflected to me: "The biggest battle that we have right now is retaining that partnership working so that people don't go back to pre-COVID norms."
Our key message during #FaithinPartnership week is that these new partnerships, these newly-forged "neural pathways", need to be built upon with further collaborative work. Otherwise, we risk losing the gains that have been made, at the expense of communities experiencing inequalities.
Tower Hamlets offers a template for how this can work well. In early 2021, the council began working with local faith partners, including East London Mosque, Christ Apostolic Church and the Inter Faith Forum to help communicate key messages about COVID-19, and distribute infection prevention items. There was a recognition that faith groups were able to reach communities experiencing health inequalities in a way that public services could not.
Beyond handing out disposable prayer mats and face masks, the project created new networks within the borough: forty-two mosques took part, whilst nine churches, eight mosques and one gurdwara volunteered to become distribution points for surge testing. Crucially, many of these faith settings had had no prior engagement with the council, the NHS or the CVS.
In 2022, the public health team built upon on these networks by funding 13 grassroots faith organisations to co-design and deliver further health interventions, according to the needs of their communities and Core20PLUS5 priority areas. Projects included blood pressure testing and health advice within black-led churches, as well as healthy living programmes to tackle obesity run by local mosques. These settings have since been able to encourage ongoing uptake of vaccines, as well as more general health promotion initiatives.
The key to all this was the vision of the public health team to seize the opportunity created by the initial COVID-19 programme, as well as the willingness to invest in the connections that had been created. What if we saw similar vision replicated throughout country?
Institutions don't form partnerships
So, what are the hallmarks of successful partnerships? Is there a key ingredient that all good examples of cross-sector collaboration seem to contain?
The clearest theme across interviews for our Challenge, Innovation, Friendship report was the importance of relationship. So many people told us that one of the distinctive characteristics of collaboration, particularly during the challenges of the pandemic, is how shared experience forged new friendships that could weather the ups and downs of working across sectors.
"…it's a whole load of relationship building … if we didn't have that … I'm going to be honest with you, we would have been really quite stuck…" – Faith leader in Birmingham
The reason so many mosques in Tower Hamlets were engaged was not a fancy communications campaign, but the hard work of a funded engagement co-ordinator, from the local Muslim community, who visited faith settings on foot and forged connections with real people.
We tend to talk about partnership in institutional terms: "partnering with mosques", "working with the NHS". But the reality is, institutions don't form partnerships, people do. Behind every "good partnership" there are ordinary people, getting to know one another, discovering shared hopes and fears, and learning to navigate differences of opinion.
Something about COVID-19 exposed the reality that underneath our fancy titles – Bishop, Commissioner, Public Health Officer, Imam, etc. – we were all individuals going through something extremely difficult and trying to do the best for our constituents.
So as we look ahead to more successful partnerships this #FaithinPartnership week, we believe that all endeavours to work together to tackle inequalities should ensure that building relationship is made a priority. Engagement strategies, Covenants, formal networks – all these can be useful tools, but if there's no opportunity for individuals to get to know one another, discovering shared values and common goals, they will have limited longevity.
You can read more about our research on partnership between faith and health during the pandemic and beyond in the following reports: