Celebrating the Faith Health Action Partnership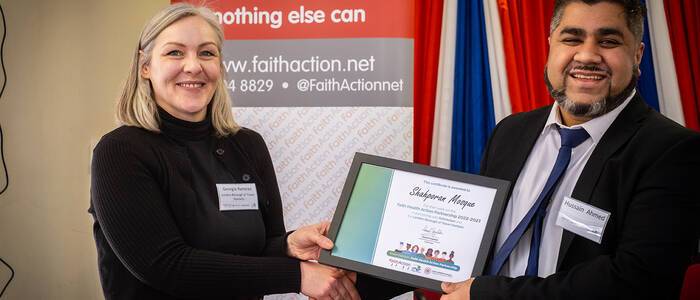 Around 50 attendees gathered in Christ Apostolic Church in Tower Hamlets last week to celebrate the achievements of the Faith Health Action Partnership project (FHAP). The FHAP project was funded by the Public Health team at Tower Hamlets Council, led and coordinated by FaithAction, and delivered by 8 local faith settings, each providing health focused projects to local communities.
Speakers from Public Health and faith leaders equally stressed the numerous benefits of working in partnership, especially regarding engaging the 'hard-to-reach' and the additional benefits to mental wellbeing and belonging that come about by engaging at the community rather than individual level.
This project built on the work of the Faith COVID Assistance Partnership, which provided support and COVID-19 infection prevention supplies to many places of worship in Tower Hamlets throughout the pandemic, and we hope the success of this recent programme will cause this work to develop further into a new range of health-related activities, with faith partnerships increasingly seen as a primary means of ensuring local communities get the help they need.
Interested in running a similar project in your area? Get in touch at [email protected]