Coventry Signs the Faith Covenant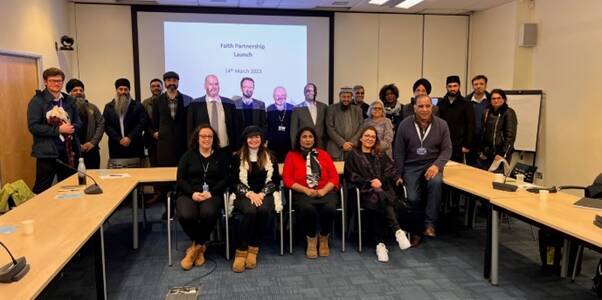 On 14th March in City Council House in Coventry, a group of faith leaders gathered with council representatives. They were there to officially launch their new Faith Partnership, a strategic body that will facilitate closer partnership working between the local authority and faith groups, opening up clearer channels of communication and taking collective action to serve the needs of communities across the city.
At the heart of this initiative is the Faith Covenant, which has been signed by the council and the faith leaders who were present. In the coming weeks and months, this will now be taken to faith groups around the city, ensuring as wide a representation as possible.
Coventry are the first to sign the Faith Covenant in recent years, with three or four other areas expected to sign later in 2023.
At the launch event, Rt Hon Sir Stephen Timms MP, chair of the All Party Parliamentary Group on Faith and Society welcomed Coventry to the national Faith Covenant community.
In a video played at the event, Sir Stephen Timms MP said, "I am delighted that the local council and faith groups in Coventry are signing up to the All Party Parliamentary Group's Faith Covenant. This all started 11 years ago when a group of us in Parliament got together because we wanted to draw attention to the very positive contributions being made to communities all over the country by faith groups and faith-based organisations.
"I very much welcome the opportunity to visit Coventry when the opportunity arises to see the work that the council and faith groups are doing together."
Cllr Abdul Salam Khan, Deputy Leader of the Council, said: "Coventry is a very special place and that's because it has always had positive relations between different communities and faith groups.
"We have signed up to this Faith Partnership to recognise the good work already being achieved. I hope we can promote it more widely so that more local faith groups sign up."
Speaking on behalf of FaithAction, secretariat to the APPG on Faith and Society, Matthew Allen spoke to those present about three of the six guiding principles contained within the Faith Covenant Primer: planning for longevity, thinking strategically, and prioritising relationship. "We are excited to welcome Coventry into the national network of Faith Covenant signatories. We look forward to supporting them on this journey and seeing what this partnership achieves together in the years to come."
For more information about the Faith Covenant and whether it could benefit partnership working in your own area, please email [email protected] or visit www.faithandsociety.org/covenant