Winter Temperature Check: How faith groups are responding to the cost of living crisis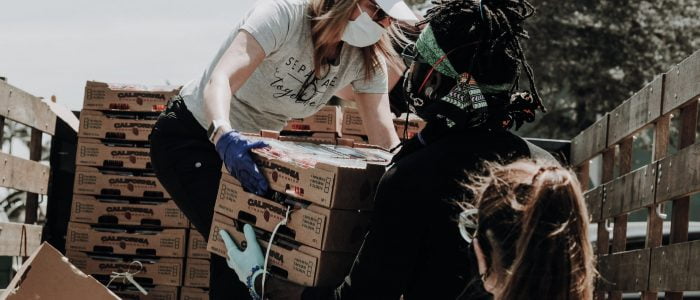 FaithAction recently released a survey to understand the upcoming challenges that faith groups are facing during the cost-of-living crisis overshadowing us this winter. Many different faiths were represented in this survey, and the results provide some insight into the most pressing concerns on faith groups' minds for the months ahead.
Food and energy prices top faith groups' concerns, alongside mental health
Perhaps unsurprisingly, a quarter of respondents said that food prices were their biggest concern. Faith communities, like the general population, will be impacted negatively by rising food prices. This will inevitably limit the amount of food provisions that faith-based voluntary and community organisations can offer to those short of food this winter. For example, food banks, many of which are run by faith groups, have seen a dramatic surge in demand and a drop in food donations.
Energy prices came second, with 21% of respondents saying this was their biggest concern as energy prices have doubled compared to what they were last year. Many places of worship are therefore working to ensure they can offer a safe space for people who are struggling to heat their homes this winter. For example, the Warm Welcome programme is creating a network of faith organisations who are offering to open their doors to keep people safe and warm in their buildings and hubs.
The survey also illuminated how these worries are not just economic but impact personal wellbeing too. One respondent commented how rising food and energy costs were "…adding significantly to mental health issues and illnesses". This also explains why mental health came as the third biggest concern to faith groups and their beneficiaries this winter.
There is a great diversity in the kinds of support being offered
Whilst respondents overwhelmingly said that they will be offering support this winter, the kinds of support they reported offering vary greatly.
The largest form of support was found to be befriending and wellbeing support, with 26% of respondents saying they would offer this type of support in response to the predicted decline in mental health. Befriending projects are now growing across the UK, where volunteer befrienders dedicate their free time to going out to support groups ranging from children and young people, to elderly people and those struggling with mental health problems or learning disabilities. Faith-based community organisations have been pioneering befriending schemes to prevent loneliness and isolation for decades – for example, Friends of the Elderly is one of the longest established befriending schemes in the UK, set up by the Church Army in 1905. More recently in 1998, Linking Lives UK began to offer a flexible befriending model across multiple regions in the UK.
Faith groups are beginning brand new initiatives to address the crisis
Still, over half of respondents said that the types of activity and support they were offering were new for them. Once again, this shows how faith groups continue to remain flexible, acting as reliable networks of support even in the toughest of times. Even more impressively, three quarters of respondents said they have not had to scale back on existing activities to prioritise these new forms of support during the cost-of-living crisis this winter.
Faith groups are calling for greater funding, as well as opportunities for strategic input
The survey found that the biggest ask to the government was for greater recognition and signposting towards faith-based activities that can support people. This was followed by greater funding for faith-based and voluntary-sector organisations, as well as greater financial support for people and families.
Understandably, alongside this, the biggest ask of FaithAction was to help faith groups receive more funding to ensure their activities are rightly recognised as the asset they are in keeping the country running. Another ask was to hold consultations with policymakers in order to create more workable solutions to the cost of living situation.
Overwhelmingly then, this survey demonstrates how faith communities are once again using their values of compassion to fill the gaps in public services and protect vulnerable groups in the face of adversity this winter. As a national charity which exists to celebrate, convene, advise and support this grassroots work, FaithAction will be responding to this survey by looking for opportunities to influence policy, direct funding, and create signposting opportunities in the months ahead.
Next Steps
For funding opportunities, please consider becoming a Gold Member. This also gives you access to individualised support and discounts on training and workshops.
Regarding policy influence, we will be looking for opportunities to learn from the faith response this winter to shape future initiatives and partnership work. There will also likely be an event or some work initiated by the All Party Parliamentary Group on Faith and Society. Additionally, look out for a blog in the new year where we will be discussing our involvement in the Faith New Deal pilot fund. We welcome involvement and input from members on any of these fronts.
We will be hosting a Faith Covenant Forum early next year to discuss how the Faith Covenant helped areas with signposting to help this winter as well any other lessons learned. If you are interested in adopting the Faith Covenant, we welcome you to come along.
Finally, if your organisation is opening its doors to those struggling to hear their homes this winter, we encourage you to consider joining the aforementioned Warm Welcome campaign.