Celebrating the impact of Creative English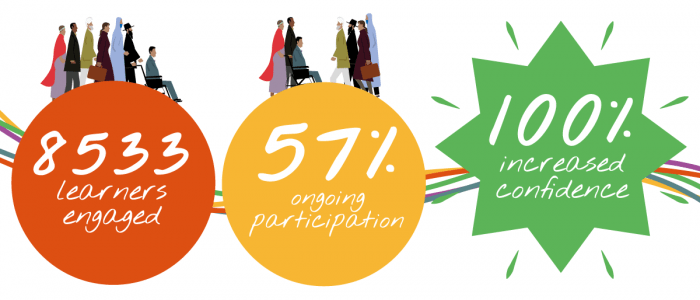 Our updated infographic below shows the success of Creative English learners who have participated in the programme under the MHCLG funded Community-based English Language programme from November 2013 to March 2019. While over 10,000 people have participated in the Creative English programme over all, 8,500+ have been participants in organisations who have been recipients of the MHCLG grant. We are delighted that MHCLG continues to fund the programme in specified areas under the Integrated Communities English Language Programme, which will see a further 3,300 engage in the programme by March 2020.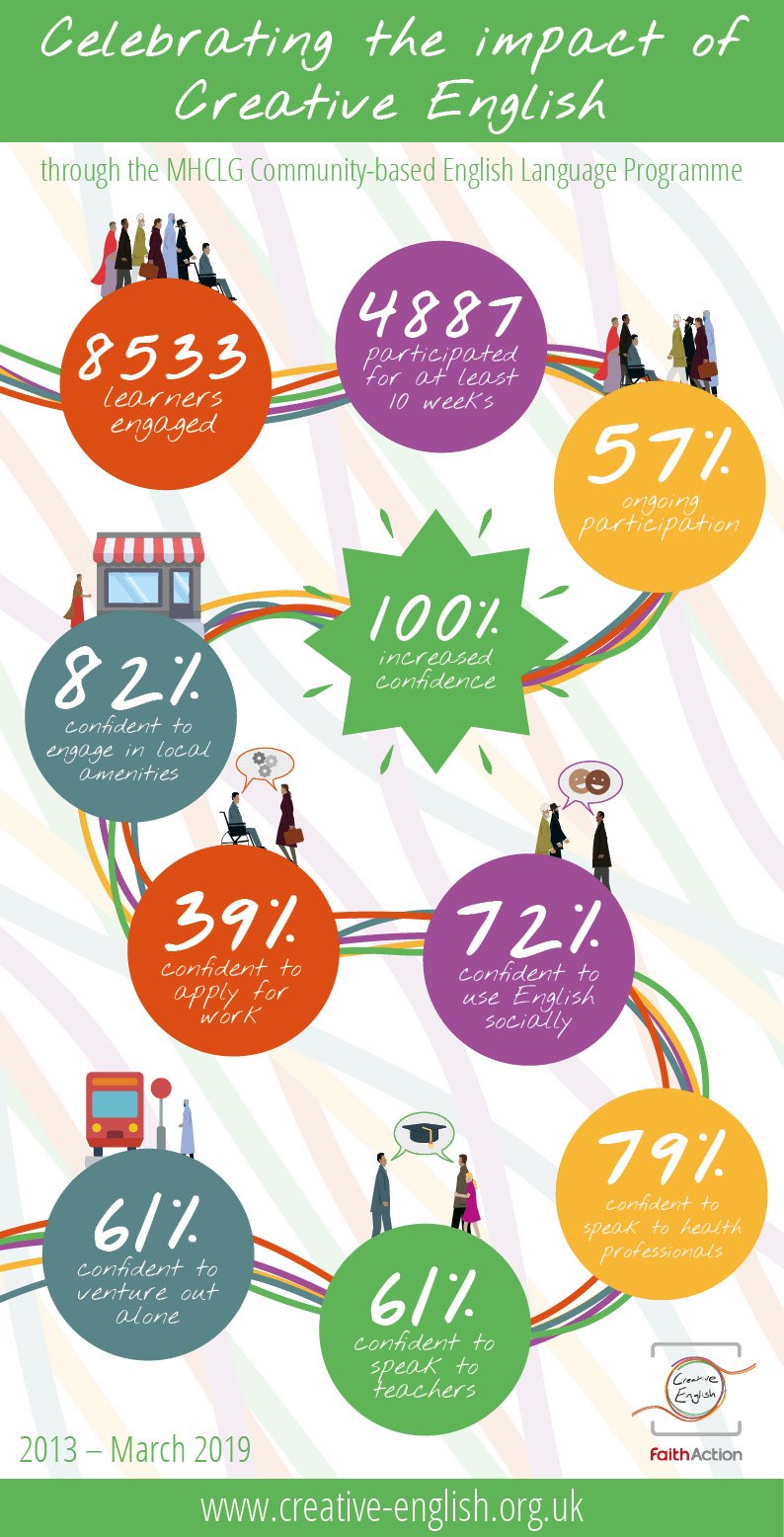 Creative English focusses on speaking proficiency, equipping learners with the language and confidence that they need to access services and facilities in their community. 82% of learners have been confident to access local amenities after participating in the programme, with 79% feeling able to talk to their doctor in English without the help of an interpreter. The drama-based methodology, which enables participants to practise language in a safe but authentic way, results in a significant impact on personal agency and isolation. 88% of learners who went out alone less than once a week increased how often they went out alone after ten sessions. Overall, 61% of learners increased the amount they went out alone each week following the programme. This is particularly significant as 63% have been in the UK for over 5 years, 40% for over 10 years and 18% over 20 years. As one learner explained,
I live here twenty year. But now I speak English for help in Matalan. I talk to teacher, not just get child from school. It's good to have English – you can talk to anyone!
The programme brings people from different backgrounds together. In 2017/18 alone, Creative English learners represented 110 nationalities. Sessions are designed to be mixed, welcoming and non-judgmental. The hosting faith and community groups and their volunteers provide safe, accessible spaces for learners with an encouraging atmosphere. Sessions are mixed-ability and are based on learning through interaction with fellow learners. In a workshop sample, 96% of learners said they had made friends from other backgrounds in sessions. A learner explained,
I was always too scared to speak to British people. Now I'm not afraid, I've met so many lovely people at this centre and my daughter's school.
Creative English Hubs all offer signposting and further support services: employability, further ESOL and skills training. Plus, there's always the opportunity to volunteer with Creative English. We are excited that a growing number of volunteers are former learners – 15% in 2018/19.
The Creative English team are looking forward to more stories of continued impact on learners and volunteers in 2019/2020!