FaithAction wins huge contract to establish 55 Creative English hubs across the UK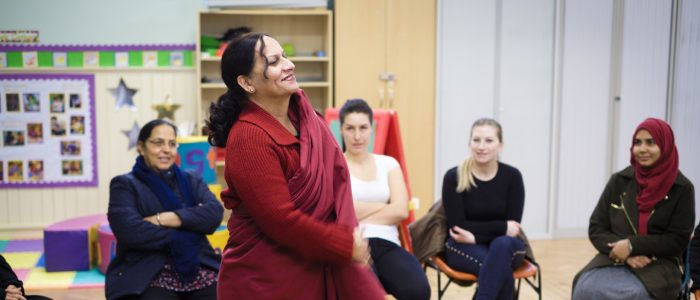 We are excited to announce that Creative English is going to reach more people than ever before as it is set to be introduced into new areas. FaithAction has been successful in securing a bid with the Ministry of Housing, Communities and Local Government, which will lead to Creative English classes being delivered at 55 hubs across the UK.
Since 2013, over 10,000 learners have benefited from the Creative English approach to learning. After just 10 weeks, 100% of Creative English learners say that their confidence to speak increases, 78% become confident to use English in functional day-to-day situations, while 88% of learners who leave their home less than once a week at the start of the programme report a significant increase in regularly going out alone.
Creative English was developed locally ten years ago through Dr Anne Smith's research with Queen Mary University of London, in partnership with learners. The programme responds to the needs of learners, offering flexibility, practical relevance and the opportunity to build resilience. It recognises that everyone wants to belong – but if someone can't speak the language, they can't join in with their community. The course works because fun and laughter encourage classmates to relax with each other and learn. Practising English through improvisation builds confidence to use the language in life. It was independently evaluated by Coventry University in 2015.
Daniel, National Executive Director of FaithAction, comments,
FaithAction are delighted that the MHCLG has continued to invest in addressing inequalities and social isolation through the Creative English programme. The ability to speak English is central to empowering people to engage in all the opportunities society offers. Provision in safe and accessible faith and community spaces is essential in reaching learners who face multiple barriers to learning. We are excited to be able to expand our provision across new areas of the country, brokering belonging and ensuring the needs of more people than ever are met
Dr Anne Smith, Creative English author and Lead Creative English Trainer at FaithAction adds,
It is life transforming when people who were feeling outside and on edge find a place of belonging and purpose. This can be done in a really safe and fun environment. Join and help your community to flourish. See them laugh their way to confident English!
Mubina, a former Creative English learner from Barking said,
I can go to the shops and know what to say when I buy things. Before it was difficult. After going to my local shop several times, the shopkeeper who I have known for 5 years commented about my use of English. This has given me further confidence to use English…