Celebrating your work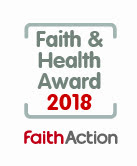 The NHS is 70 years old this year. At FaithAction, we are celebrating the valuable contribution that volunteers and faith communities play in supporting the NHS and improving health and wellbeing in their communities.
That's why we have launched the FaithAction Health Award – to shine a light on the best work undertaken by faith groups in their work to improve health and care. Whether you work in partnership with the NHS, or your work promotes wellbeing more generally – the kind of 'wrap around' support that helps keep people healthy – we want to hear from you!
What are we looking for?
Projects that…
Have a clear purpose – why are you doing this work?
Can show how they benefit local people
Work in partnership with other health or care organisations
Will inspire others to action
First prize:  A short film promoting your work for you to use as you like, and a new laptop*
Second and third prizes: A tablet computer and an hour's consultancy with a senior member of the FaithAction team*
We're delighted that a number of organisations are already supporting the award. These include:
Cinnamon Network
Hindu Council UK
Jewish Leadership Council
City Sikhs
Religious Sisters of Charity
Closing date for applications: 29 March 2018 at 5pm
Download Faith and Health Award Application Form
Download Faith and Health Award Terms and Conditions
*Computer prizes generously donated by our host organisation LifeLine Projects