Faith and Levelling Up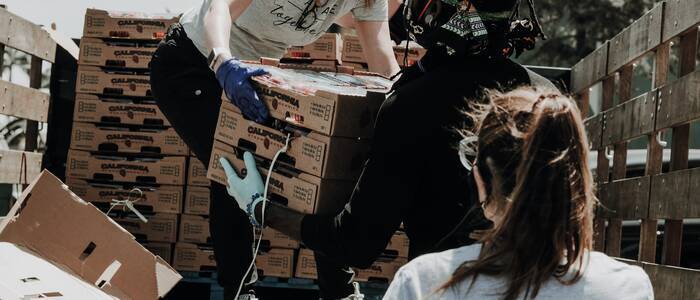 The All-Party Parliamentary Group for Left Behind Neighbourhoods recently held an inquiry into levelling up, giving contributors an opportunity to assess the extent to which the government's Levelling Up White Paper aligns with the needs and aspirations of people living in 'left behind' neighbourhoods across England. Read our submission regarding the essential role faith-based social action ought to play in this agenda to truly enact sustainable, equitable change across the nation.
Restoring community is a nebulous ambition. As is the language of "levelling up". What is clear, however, is that local communities (perhaps faith communities in particular) have a level of assets or social capital which would be hard to replicate through mere financial investment or a redeployment of existing institutions. Faith provides a network of relationships akin to a family – a type of network which is often a source of trusted information recommendations and even investment. This was shown most recently in the pandemic and the resulting lockdowns when it was faith groups (alongside other VCSE groups) who were the swiftest to mobilise to deliver food and medicine.
It was also faith as a section of society that saw the lowest infection rates when guidance was followed. This is why when there were restrictions placed on faith and worship in autumn 2020, the Places of Worship Taskforce wrote to the Prime Minister to protest these restrictions which did not bear in mind the positive and safe practise of faith groups throughout the country. At the time that this particular letter was written, less than 50 cases of COVID-19 could be traced to faith locations. This compared very favourably with many significant outbreaks in hospitality settings, for example.
Faith leaders also gave a significant boost to the vaccine take up, through messaging and provision of venues, and local faith groups were heavily relied upon to provide many essential services to the most vulnerable (see the Keeping the Faith reports). In areas where these relationships and social capital already existed (such as in areas covered by a Faith Covenant) the response was often most effective.
Since the pandemic, this faith capital was again deployed in response to the Afghan and Ukrainian refugees and BN(O) visa holders arriving from Hong Kong.
However, faith should not just be for crises. There is a significant role for faith groups and faith-based organisations to play in addressing long term, systemic injustices and challenges, and championing the common good. There are therefore numerous priorities and initiatives proposed in the Levelling Up White Paper which would much more likely succeed should they seek to harness faith capital and partner with faith leaders, organisations, and institutions.
Throughout this nation's history, individuals of faith have made a significant difference to the lives of many in the UK and further afield. Be it through the organisational and mobilising abilities of William Wilberforce and the Clapham sect, or the visionary responses to poverty of Guinness and Cadbury, faith-based activity didn't just look like relief (e.g. food banks, night shelters, etc.) but longer term solutions and the development of civil society in the United Kingdom.
The government can put energy behind a northern powerhouse, but there is only so much a government can do. DLUHC can be relocated to Wolverhampton, but it then cannot be relocated to Walsall. Whether that move is effective or not, it can only be played once. The government can reallocate some its attention away from London to the likes of Manchester, Birmingham or Leeds, but true 'levelling up' will not be achieved if the likes of Rochdale, Boston and Derby are left out. In short, the government cannot provide all the incentives for levelling up without utilising communities themselves within levelling up areas, particularly faith communities, which are often committed to the long term wellbeing and prosperity of those areas beyond short-term leveraging of deregulation and investment.
The institutional infrastructure and faith capital that faith groups provide may be one of the very few resources that exist in every community in the UK. We therefore believe collaboration and co-development with community, particularly faith communities, are important for the success of levelling up and a more equal United Kingdom. It is these communities which become anchor institutions, propagators of trusted information, recommenders of business and so on which will then become the backbone other new, vibrant, and more equal United Kingdom.
View this short video from the RISING Global Peace Forum in Coventry, where Daniel spoke on the faith response to recent crises, levelling up, and opportunities for the year ahead.