Healthwatch Barking and Dagenham Wins Prestigious National Award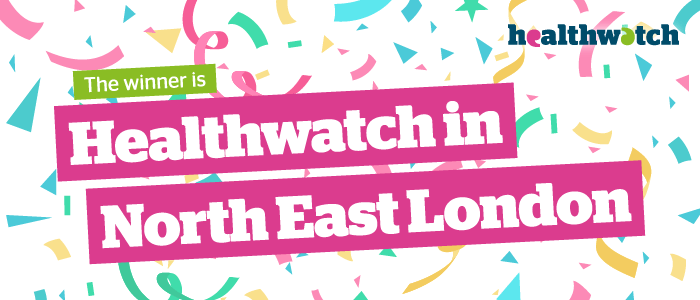 As one of FaithAction's local projects, Healthwatch Barking and Dagenham works within FaithAction's home borough as a health and social care champion, feeding local voices through to local NHS leaders and other decision makers. The team are very proud to have won an award at the recent Healthwatch Awards. Acting Healthwatch Manager Manisha tells us more.
---
As acting manager of Healthwatch Barking and Dagenham, I'm proud to announce that we have won an award for working with integrated care systems (ICSs) as part of a partnership with seven other local Healthwatch organisations across North East London. This prestigious national award was presented to us at the Healthwatch Awards 2021, a virtual event held earlier this month and run by Healthwatch England, the statutory body that oversees the Healthwatch network.
The award is in recognition of the combined work of our partnership, which provides the North East London Health and Care Partnership with the valuable feedback it needs to develop better services. It is through providing fast, regular and comprehensive insight into people's experiences with care services that we are able to work towards building a system that truly meets all our needs.
I would like to offer a huge thank you to all the residents who have shared their views with us and contributed to improving our local health and care services. It is your voices that are making a real difference in Barking and Dagenham.
I would also like to offer my thanks and my congratulations to all our partners in this work at Healthwatch City of London, Healthwatch Hackney, Healthwatch Havering, Healthwatch Newham, Healthwatch Redbridge, Healthwatch Tower Hamlets, and Healthwatch Waltham Forest.
We also heard from Sir Robert Francis QC, Chair of Healthwatch England, during the event:
The last 16 months have been a time of unprecedented challenge as we all grappled with the impact of COVID-19, yet Healthwatch across England all rose to meet that challenge magnificently and went the extra mile to look after their local communities in a moment of crisis.

The Healthwatch Awards have been a fantastic chance to showcase how Healthwatch makes such a difference to people's lives and Healthwatch Barking and Dagenham's 's tireless work for its community during the pandemic is a perfect example of this. I would like to congratulate the Healthwatch Barking and Dagenham team for their achievements and dedication to the local people they serve.

The awards also serve to highlight how, by sharing your experience with Healthwatch or giving up your time to volunteer, you can make a real difference to your community.
Finally, I would like to take this opportunity to encourage everyone to keep sharing their experiences—it's so important that we hear from you about which services are working well and which need to improve. We can use your feedback to make health and care better for everyone, and we will do our best to ensure service providers listen to what you have to say. And of course, Healthwatch is free to use, completely impartial, and anything you tell us is confidential.
You can find your own local Healthwatch on the Healthwatch England website. Please, have your say.