Café Connect – Welcoming Hong Kongers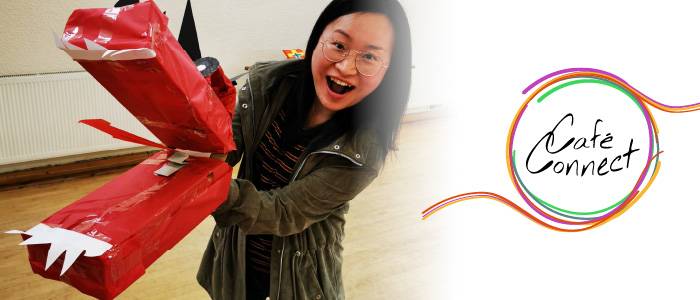 We have been thrilled to see Café Connect groups launch in three regions of the UK to welcome Hong Kongers into the UK, by providing a place to practise conversational English, make friends, meet local people, find out about systems and services and learn about UK history and culture.
The programme draws on elements of Creative English methodology, whilst being more flexible to ensure members of the host community, as well as new arrivals with fluent English, can all enjoy and benefit from the same session, with a series of activities provided each week to bring everyone together and suit different needs and interests, including crafts and games. As a volunteer explained: "The activities break down barriers. It's great for practising speaking and making friends at the same time. Within 2 weeks, there's a warmth between people, as well as a hunger to learn more!" Another said: "Without Café Connect, I would never have had the opportunity to meet people from Hong Kong. It has been brilliant to make friends with these lovely people. One lady has lived in my road for months and without this I could never have met her!"
Teams have been trained in each setting to deliver the programme weekly, supported by a kit of materials and session plans. April saw some amazing dragons created in celebration of St George's Day, learning the origins of the English flag and Union Jack, as well as exploring language and strategies for modern day problems we might experience now dragons are not so much of a problem! In May, we prepared for local elections with a session that explored the voting process, the story of Big Ben and the local and national democratic system. Our largest group is hosted by the fabulous Solihull Methodist Church who welcomed 62 Hong Kongers to their last session!
It doesn't just benefit those attending as participants. A volunteer explained: "When you are coming to the UK and you are an educated person, it's harder as you feel like a baby. When you don't speak the language or know the culture, you feel like you're failing at everything. I understand these things because I felt the same when I came here. I am so happy to volunteer on this project. I can enjoy helping people and I can get a reference and experience to help me get work. It's not just for people coming here now, but for volunteers like me too."
If you have new arrivals from Hong Kong in your community, have a look and see if there's a local group for them to get involved with. The teams in each area would love to meet them!
Join Café Connect in London
Croydon: Chinese Church in London
Join Café Connect in the West Midlands
Birmingham and Coventry: Diamond CIC
Wolverhampton: All Nations Church
Solihull: Solihull Methodist Church
Join Café Connect in Yorkshire and the Humber
Leeds: St Barnabas, Alwoodley
Yorkshire and the Humber: Online sessions