Do you have five minutes? Take our Five-in-Five survey!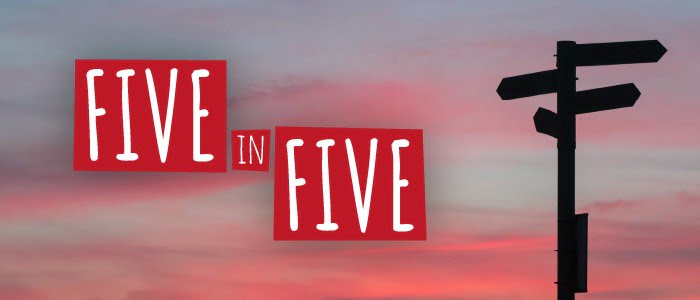 Recently, the FaithAction team met to take stock and think about our direction of travel for the next few years. We pondered the impact of the pandemic on our normal work – how, in so many ways, 2020 did not unfold as expected. There were proposed projects that never happened, existing work that took a whole new direction, and a few brand new opportunities.
We suspected that many of you might have experienced something similar. And, as we looked to the future, one thing became clear: we didn't want to plough ahead without your input.
The past year has been one of challenge and upheaval for so many, but it has also shown the immense and enduring value of the faith sector to our society. Just last week Matt reminded us of how the Keeping the Faith report, commissioned by the APPG for Faith and Society, revealed that a large number of councils have reached out in partnership to faith groups. We've long been aware of the value added by faith groups to our communities, but this past year we've seen them gain increased recognition by our institutions. And that's not just faith as represented by larger bodies and organisations, but also the many grassroots initiatives who have rolled up their sleeves to bring help and hope to those who needed it.
In an ideal world, we'd sit down for coffee with you to hear your stories – and hopefully something like that will be possible again before too long. But in the meantime, we'd love to capture some of your work in a wide-reaching survey. We're calling it the Five-in-Five survey. That's five questions in five minutes. Of course, there is space for you to say a lot more if you'd like.
There are three primary aims. First, we want to get a snapshot of how you, our members, feel we've done in supporting you over the years. What initiatives have you found most useful, both before the COVID-19 pandemic, and over the course of the past year? Do you find our work – our publications, events, consultations – relevant to you and what you're doing? Perhaps there's something else you'd like to see us focus on.
Second, we want to know about your experience of the past year. Has the impact of COVID-19 changed what you consider to be important? Perhaps you have found that your pressures and priorities have shifted significantly over the past twelve months, or perhaps they have become more focused and resolute.
Third, we want to capture the role so many of you have played in supporting the NHS in its response to the pandemic. We know from informal conversations that so much the work you have done has been a huge support to the health and care system. From providing transport to and from appointments, out-of-hospital support, delivering medications, offering befriending and supplying practical aids like PPE or food. What's more, as the COVID-19 vaccine has been rolled out, many of you have encouraging your community to take it up. Some of you have even opened your doors as vaccination sites.
Some of what you tell us will go towards a brand new report charting the role of faith in supporting the NHS. And some will help us consider where we travel over the next few years. Your feedback will be a great help as we consider how to continue to support the work of a such a diverse faith sector.
So, grab five minutes, and a cup of coffee, and let us know your thoughts. And remember, if there's any further, tailored help we can give, we're just an email or phone call away.