The FaithAction Team: How We're Surviving – and Thriving!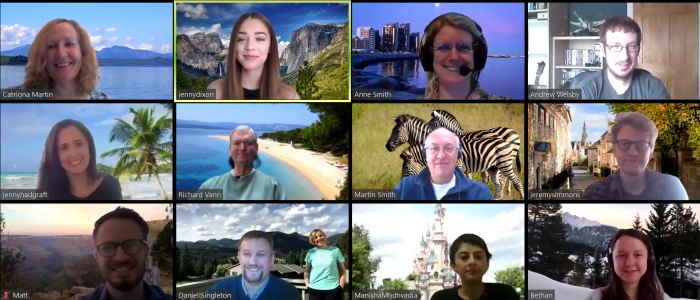 On our daily Zoom meeting yesterday, we asked the FaithAction team to change their background to their favourite place they have ever been to. These included Croatia, the Alps, Disney World and Yosemite National Park!
The 1st of January 2020 was not just the start of a new year, but a new decade, and many of us were quite excited for what it held in store. You likely made your resolutions with the hopes of a smoother road ahead than the previous year, planned to travel and experience new things, or created a fresh set of ambitious goals.
Well, it's safe to say that all our lives have been affected and interrupted in some way by the outbreak of the coronavirus pandemic. It's so easy to think "I've lost months of my life to this virus", and it is normal to feel disappointment about holidays or events we may be missing out on. Yet, with this 'new normal' set to continue for the foreseeable future, we can make the choice to not only survive this time, but to thrive within it.
In that spirit, we asked our team here at FaithAction to reflect on their time in lockdown so far:
1) What's your best lockdown hack/tip?
Jeremy, our Policy Officer, suggested a great hack for those of you who are missing your usual coffee shop treats. He says, "There's a great coffee roastery in Leeds called CLO. They have offered free delivery on beans throughout lockdown. All their coffee is ethically sourced from the grower and they are faith based. What's not to like?"
A successful weekly shop can seem like quite a feat at the moment, with long queues and social distancing measures to abide by. Our National Executive Director Daniel's hack is, "go to the supermarket at night – everyone else seems to go during the day."
We all know that exercise benefits our mental well-being and Catriona, one of our Creative English Trainers, suggests that simulating a walk to work, "even a ten-minute stroll around the garden" does wonders!
2) What's the first thing you'll do post-lockdown?
Whilst it's important to accept lockdown as normality for now, it's never a bad idea to set out some hopes and plans to look forward to.
Matt, our Project Officer, says the first thing that he'll do post-lockdown is "go explore a cool part of London with my wife and daughter, who hasn't seen much of the outdoors at all during these first three months of her life!".
Our Healthwatch Officer Richard is looking forward to arranging an "away day with my closest family, ending with an amazing meal together!"
The first thing Creative English Trainer Bethan will do is "meeting my friends in my favourite coffee shop for a proper latte and catch-up."
3) What's something that you've come to appreciate most during lockdown?
Jenny, our Project Administrator, says the thing she has come to appreciate is "fresh air! Going out for walks in the evening somewhere nice with family."
Jeremy appreciates "spending quality time with my wife and son. Also, our garden. The gentleman who owned our house previously was a big gardener, though we've not been able to give it much attention since moving in. Throughout spring it has become filled with colourful flowers that I hadn't even known were there."
Richard said it was difficult to choose just one thing! He said, "the care and love of my partner; what freedom really means and how lucky we are; how precious a hug with family is; the wonders of technology and the liberation it can bring; how tuned in pets are to how we feel; being able to get a proper haircut!"
Catriona has really appreciated love. "Love of friends who are doing my shopping, friends and neighbours who have dropped off medicines, plants and samosas! Friends and family who have called/zoomed. Also, time saved from commuting, the chance to sit in the garden, listen to the birds and be visited by ducks!"
---
It is not always easy to look on the bright side, but, as our team are trying to practice, thankfulness, keeping in touch with others, and thinking of the good days and experiences that are in store can be great tools for maintaining your mental health.
For more on that front, Blurt is a mental health website which seeks to raise awareness of mental health issues and to support those who are struggling – although anyone can benefit from their advice and resources. Their Mental Health Toolkit includes information on healthy habits, self-care and mindfulness, foods that boost mood and energy, creative activities to try, and much more. To find out more, please click here.
Finally, we know that communities across the UK are finding unique ways of coming together during this time of difficulty, and that faith groups are often at the heart of this. If you would like to share the positive things that you are doing, please take a few minutes to answer our survey.