We have difficult days ahead, let's choose to share laughter and kindness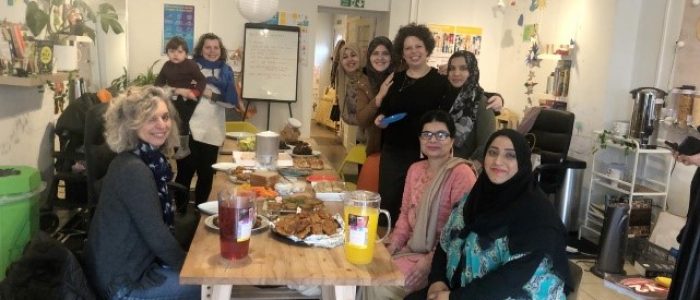 We are living in difficult times. Recent storms have caused misery with damage to businesses and homes, there are ever increasing occurrences of Coronavirus which has had a knock-on effect with increased levels of fear, isolation, racist attacks and stockpiling. Sadly, negative news stories always sell. But in difficult times like these it is encouraging to hear those stories of kindness, hope and light. It may be helpful, too, to remember that 'corona' can also be defined as the circle of light which can sometimes be seen around the moon at night, or around the sun during an eclipse (Cambridge Dictionary).
Being a part of Creative English provides the opportunity to see the many positive things that are going on within communities.
One of the things I love about Creative English is that it offers the opportunity to build partnerships within the community by supporting learners to connect beyond the programme. We aim to make this easy by standing with learners, helping them to build the bridges that allow them to access further, greater opportunities.
Last week I heard from Oasis Hub in Oldham about the positive impact that Creative English classes have had on their learners – not only in terms of practising and growing confidence in their English, but also in providing practical support. Many of us take travelling on public transport for granted; when registering their learners, the facilitator realised that only one person in the group had travelled by tram in Oldham. Because of this, she contacted Transport for Greater Manchester who visited the group to hold a workshop to hear the learners' views and experiences of local public transport.  The workshop allowed learners to practise their English, to express their concerns with using the local transport and to find out what could support them in doing so. They are hoping (once we are past the current crisis) to arrange some free tram tickets for the group to experience a tram trip from Oldham to Manchester!
In Barking and Dagenham, Lydia has built a link with a local project that has helped her learners to complete a Food Hygiene Course. This has allowed learners to take a step further towards exploring their business ideas! Lydia supported the learners throughout the course, and it was wonderful to hear how excited the learners were about taking part and gaining their certificates.
Last week Bethan and I took learners from our classes along to a community hub, where there are a variety of activities throughout the week. We chose the 'Community Café' session so we could all enjoy a cup of tea and a slice of cake! It was great to see our learners having the opportunity to meet other members of the community in a social setting, to practice their English and to learn from each other.
Last week, FaithAction released their Loneliness Report, which highlights the role of faith communities in tackling loneliness. In recent times there has been a greater understanding of the impact that loneliness has on wellbeing, and it is wonderful when communities provide activities and opportunities for people to get involved with. However, taking the step to walk through the door for a class or an activity on your own can be daunting – even if you are a confident English speaker! So, it is rewarding to be able to act as a bridge to support learners to access local opportunities, to hear them laughing and enjoying their new experiences.
We will have difficult days ahead, with lots of 'negative news story' days, yet we can also choose to share laughter, kindness and positivity. This could make such a difference to us all. So, let's look out for and celebrate all the fantastic, positive success stories that are also all around us.