The NHS Parliamentary Awards
Earlier this year, NHS England and NHS Improvement launched the NHS Parliamentary Awards,  an award programme designed to encourage health and care organisations to engage with their local MPs, tell them about the work they do, and build or strengthen ongoing relationships.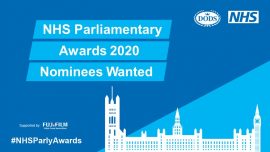 From 2nd July, the nomination portal will be open to new nominations. The window for nominations is open until midnight on Tuesday 1st September 2020
The awards are free to enter and the nomination process has been designed to make it as easy as possible for individuals and organisations to make nominations and to encourage their local MPs to submit them on their behalf.
The Awards are not just for clinical roles or and are not confined to NHS staff either. They would welcome nominations from charities and third sector organisations who provide essential services to patients and who work change the way care is delivered.
They would encourage all health and social care organisations to reach out to their local MPs to encourage them to submit a nomination.
More information about how to nominate can be found here.