Daniel Singleton speaks with BBC News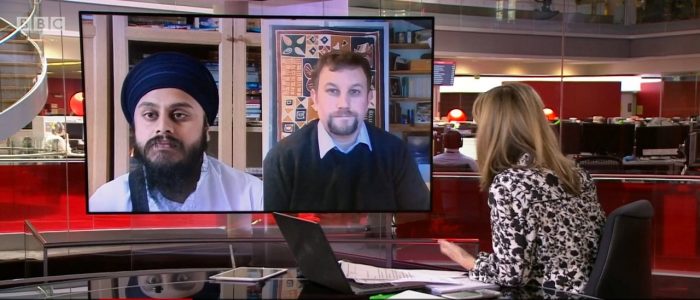 FaithAction's Executive Director Daniel Singleton spoke with Victoria Derbyshire on BBC News at 9 this past week, looking at the reopening of places of worship and the impact of faith during the pandemic.
---
VD: The Prime Minister is expected to update the Cabinet on plans to reopen places of worship at a meeting later today. […] And to find out the impact this will have for other religious communities, we can speak to Daniel Singleton. […] He's National Executive Director of FaithAction and a member of the Government taskforce developing a plan to reopen places of worship. […]
VD: Daniel, hello, thank you for talking to us. In terms of allowing for private prayer, will that have more of a positive impact for some baits than others?
DS: That is a real issue we are going to face. Proportionately some faiths will be able to operate more of their rituals and activities than others. But of course, so much of faith is beyond a place of worship. It's to do with the practice as well. And we want to see at FaithAction how we can utilise freedoms related to outside and different things so that faiths can express themselves and come together as communities, even in the small groupings that are allowed at the moment.
VD: A survey found one in 20 adults have started praying for the first time during lockdown. What do you think of that?
DS: I don't think it's surprising that at a time of difficulty, people turn to faith. I think that faith has been on the frontline of responding to this particular crisis, and actually it was already active throughout our communities, serving in food banks – we heard about the langar today, which of course has been going on for many years. It just has come to the forefront.
DS: And obviously we are facing a terrible amount of deaths, and our own mortality is something that makes us think a little bit beyond the normal run of life.
VD: Absolutely. Thank you for talking to us.