National Intergenerational Week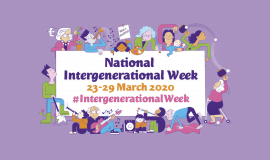 This week, 23rd-29th March, is the first National Intergenerational Week. This is all about celebrating those moments and places where different age groups come together for shared benefit.
As people self-isolate during the coronavirus outbreak, this week seems more relevant than ever. The vulnerable and elderly population are more at risk, and therefore have to be increasingly isolated in order to ensure their health and wellbeing is protected.
In line with the latest advice from Public Health England, the St Monica Trust are encouraging organisations who might have been planning intergenerational gatherings to instead use the week for another purpose. During National Intergenerational Week, yes, let's talk about the merits of bringing generations together and your recent projects. That's such an important reminder right now.
But let's also pool our collective experience into sharing ideas for tackling social isolation in this unique context. Skype sessions and emails, phone calls and Facebook. You can share your ideas for supporting intergenerational connections during the coronavirus with them via email [email protected] and by using the hashtag #IntergenerationalWeek.
To view their website, please click here.