New resources on dementia for people of faith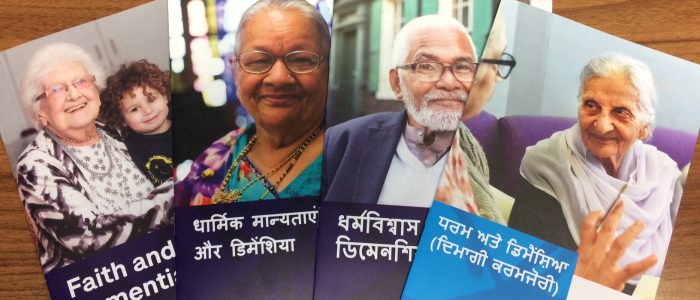 Alzheimer's Society has produced a new series of booklets that aim to support people with dementia to continue to practise their faith – and they would like your feedback!
The booklets include a brief introduction to dementia, information on the challenges that people with dementia face, and practical tips to make faith communities more dementia friendly.
There range of booklets focuses on the Christian, Hindu (also available in Hindi), Muslim (also available in Bengali), Jewish and Sikh (also available in Punjabi) faiths, as well as a generic booklet suitable for any faith community.
Alzheimer's Society has printed a small number of the booklets and the team are keen to gain feedback to ensure that the wording and translations used are sensitive and accurate before printing more.
FaithAction helped develop the booklets as part of the Prime Minister's Champion Group task and finish group on faith. We have a few hard copies of each booklet so if you would like one or more to review, please email [email protected] by 31 March, stating which booklet(s) you would like and including your postal address.