Get the latest information and guidance
Places of worship restrictions in England
As of 19th July 2021, all legal restrictions around meeting together, including the mandatory wearing of masks indoors, rules around social distancing and numbers of people allowed to meet together, and restrictions on activities such as singing, have been removed.
However, the updated guidance for the safe use of places of worship, released by the Ministry for Housing, Communities and Local Government encourages everyone to use their own personal judgement to manage their own risk, and for people to be sensitive to the judgement of others about how much risk they wish to take, including whether they want to continue mantaining social distancing from others, or not wanting to take part in certain activities.
Everyone who has symptoms of COVID is encouraged to go for a PCR test, and to use the NHS Test & Trace app. Everyone is also encouraged to continue to test themselves using the free lateral flow tests available from the GOV.uk website, from testing centres and from participating pharmacies.
As places of worship are also workplaces, even if staffed by volunteers, those with responsibility for managing the place of worship are encouraged to follow the working safely guidance. Employers and venue managers will continue to have a legal duty to manage risk for affected by their business or organisation, so a risk assessment will need to be conducted and resonable steps taken to mitigate risk.
In places of worship where there are activities that use shared communal objects, this is now down to the personal choice of individuals on if they wish to take part in the activity, those who do take part should be encouraged look after their own personal hygene including washing or sanitising their hands before touching the communal items.
Singing is also now permitted indoors.
Activity
Current Restrictions as of 21st June

Opening Places of Worship for communal worship
Open for as many people as can be safely accommodated with social distancing measures
Attending Places of Worship for communal prayer
Can interact in groups of up to 6 people or two households
Outdoor acts of worship
Most legal restrictions around meeting together outdoors are now lifted, although gatherings of over 30 remain illegal unless otherwise exempt. Communal singing can now take place outdoors in the grounds or outdoor space of a place of worship
Broadcasting or filming an act of worship
Permitted, but only those essential for the content of the service or for technical support should be in attendance
Wedding Ceremonies
Can take place, with numbers in attendance only limited by how many can be safely accomodated with social distancing guidelines
Wedding Receptions
Can take place, with numbers in attendance only limited by how many can be safely accomodated with social distancing guidelines
Funerals
Can take place, with numbers in attendance only limited by how many can be safely accomodated with social distancing guidelines
Commemorative events post-death
Can take place, with numbers in attendance only limited by how many can be safely accomodated with social distancing guidelines
Other Standalone Life-Cycle Ceremonies
that do not take place as a part of communal worship
Can now take place with up to 30 people
Childcare & Education
Can be provided for all children without restriction on the reasons for which they may attend
Essential voluntary and public services

Can remain open to provide services such as food banks, blood donation sessions, to support the homeless or vulnerable people, or to provide support during an emergency, Can also remain open where the place of worship is being used as a vaccination centre

Support Groups

Support Groups that have to be delivered in person can continue for up to 30 people where formally organised to provide mutual aid, therapy or any other form of support – but they must take place at a premises other than a private home.
Find out more about the COVID-19 vaccine on our dedicated page below.
Local COVID Alert Levels - Key Messages for Community Leaders
On 12th October 2020, the government announced a new system to help simplify and standardise local rules around COVID. The three tiered system has been implemented across the country, setting out clear rules on what people are expected to do to keep themselves safe. A number of places have been placed in the high or very high alert level, with more expected to follow. To help community leaders explain this new system to those communities in the high or very high alert level tiers, the Cabinet Office have produced a series of resources outlining the rules in each area, when they go into force and suggestions for ways to help spread the message to the local community.
The Cabinet Office have also issued an Influencer Toolkit for community leaders across the country containing key messages the government wants to promote.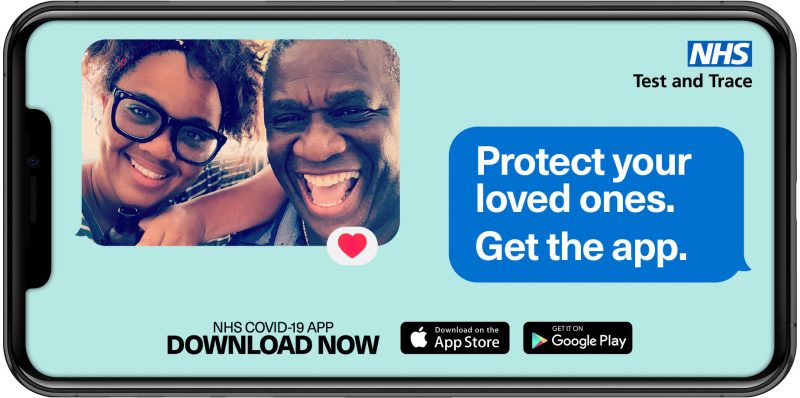 The new COVID-19 app by NHS Test and Trace is now available. This app is the fatest way of knowing when you're at risk of coronavirus.
Find out when you've been near other app users who have tested positive for coronavirus
Keep track of infection levels in your area
Check in with venues and get alerted if other visitors have tested positive for coronavirus
Check if you have coronavirus symptoms and order a test online
Keep track of your self-isolation period and get relevant advice
If you are holding services or other events in a venue, including a place of worship, you can display a QR code to allow visitors to quickly check-in using the COVID-19 app and help trace and stop the spread of coronavirus.
If you would like to help spread the word about the app and how it works in your community, there are a number of informative posters and other resources available on the official website. Versions of the resources translated into 11 different languages are also available.
Celebrating Religious Festivals During COVID-19
The Government has released a checklist covering key principles from the COVID-19 guidance to help religious communities celebrate their religious festivals in a safe way
Reporting of coronavirus regulation breaches
If you believe that there has been a serious breach of coronavirus regulations, you may report an incident to your local police force.
While you may always call 101 for non-urgent police matters, many forces are urging people to instead use online reporting methods where possible due to the increased pressures of the pandemic.
We've put together a list of links to these online reporting tools, where available.