Get the latest information and guidance
Government Plan for Living with COVID
On Monday 21st February, the Prime Minister announced the plan for 'Living with COVID', which involves the end of many legal restrictions as of the 24th February.
As of Thursday 24th February
You will no longer be required to self-isolate following a postive COVID test. You are still advised to remain at home and avoid contact with others. You may take a lateral flow test on the 5th and 6th day, and return to normal activities if both return negative.
Close contacts of someone who has developed COVID-19 who are fully vaccinated and those under 18 are no longer required to test daily for 7 days, and close contacts who are not fully vaccinated are no longer required to self-isolate.
Various support systems, such as self-isolation payments, medicine delivery, and contact tracing, will come to an end.
Additionally, on 24th March, COVID-19 provisions related to Statutory Sick Pay and Employment and Support Allowance will end.
Further changes will come into force on 1st April, notably an end to the supply of free testing kits, and the end of the NHS COVID Pass scheme. The guidance is also scheduled to be updated at this time in relation to these changes.
For full information, please refer to the plan itself and the Prime Minister's statement.
Government Autumn and Winter Plan: Plan B Restrictions Easing
On Wednesday 19th January, the Prime Minister announced that restrictions implemented as part of the Government Autumn and Winter Plan: Plan B are to be lifted in England.
As of Thursday 20th January
Working from home:-
The government is no longer asking people to work from home. Employees should speak with their employers about the arrangements for returning to work.
Face Coverings in schools:-
Face coverings will no longer be required for staff and students in secondary and college classrooms.
As of Thursday 27th January
Face Coverings:-
There will no longer need to be a legal requirement to wear face coverings, including in places of worship. Wearing face coverings in crowded and enclosed spaces where you might come in to contact with people you do not normally meet.
Face coverings will no longer be necessary for staff and students in communal areas of secondary schools or staff in communal areas of primary schools. Directors of Public Health will only be able to recommend students and staff wear face coverings in communal areas wherer there are outbreaks or where the local public health situation justifies it and it is signed off by the Secretary of State for Education.
NHS COVID Pass;-
Venues and events will no longer be required to check visitors' NHS COVID Pass. The Pass can still be used on a voluntary basis.
The Department for Levelling Up, Housing and Communities will be updating their guidance for the safe use of places of worship to reflect these new changes. Places of worship should continue to follow good practice advice about keeping each other safe.
Places of worship restrictions in England
As of 19th July 2021, all legal restrictions around meeting together, including the mandatory wearing of masks indoors, rules around social distancing and numbers of people allowed to meet together, and restrictions on activities such as singing, have been removed.
However, the updated guidance for the safe use of places of worship, released by the Ministry for Housing, Communities and Local Government encourages everyone to use their own personal judgement to manage their own risk, and for people to be sensitive to the judgement of others about how much risk they wish to take, including whether they want to continue mantaining social distancing from others, or not wanting to take part in certain activities.
Everyone who has symptoms of COVID is encouraged to go for a PCR test, and to use the NHS Test & Trace app. Everyone is also encouraged to continue to test themselves using the free lateral flow tests available from the GOV.uk website, from testing centres and from participating pharmacies.
As places of worship are also workplaces, even if staffed by volunteers, those with responsibility for managing the place of worship are encouraged to follow the working safely guidance. Employers and venue managers will continue to have a legal duty to manage risk for affected by their business or organisation, so a risk assessment will need to be conducted and resonable steps taken to mitigate risk.
In places of worship where there are activities that use shared communal objects, this is now down to the personal choice of individuals on if they wish to take part in the activity, those who do take part should be encouraged look after their own personal hygene including washing or sanitising their hands before touching the communal items.
Singing is also now permitted indoors.
Find out more about the COVID-19 vaccine on our dedicated page below.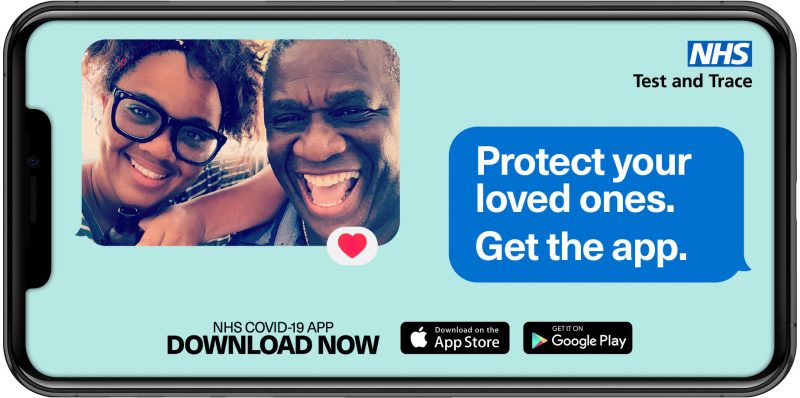 The new COVID-19 app by NHS Test and Trace is now available. This app is the fatest way of knowing when you're at risk of coronavirus.
Find out when you've been near other app users who have tested positive for coronavirus
Keep track of infection levels in your area
Check in with venues and get alerted if other visitors have tested positive for coronavirus
Check if you have coronavirus symptoms and order a test online
Keep track of your self-isolation period and get relevant advice
If you are holding services or other events in a venue, including a place of worship, you can display a QR code to allow visitors to quickly check-in using the COVID-19 app and help trace and stop the spread of coronavirus.
If you would like to help spread the word about the app and how it works in your community, there are a number of informative posters and other resources available on the official website. Versions of the resources translated into 11 different languages are also available.
Reporting of coronavirus regulation breaches
If you believe that there has been a serious breach of coronavirus regulations, you may report an incident to your local police force.
While you may always call 101 for non-urgent police matters, many forces are urging people to instead use online reporting methods where possible due to the increased pressures of the pandemic.
We've put together a list of links to these online reporting tools, where available.