"That's nice—what do I do with it?"- Reflections on the Faith Covenant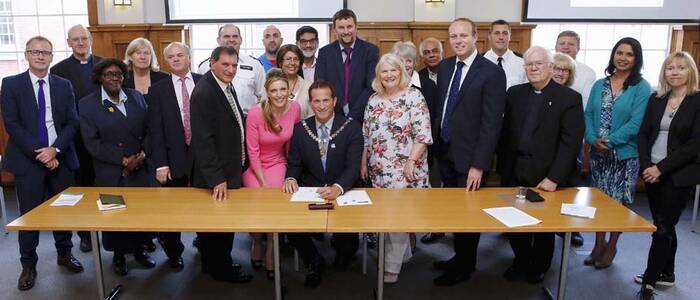 Have you ever found yourself opening a gift from a friend or relative and thinking, "That's nice—what do I do with it?" This Christmas, I opened a large box to discover a strange metal object within. My family—my wife in particular—looked on with bated breath and excitement as I pulled out a device, round with a jagged edge. I could not begin to imagine what it was—it had not been on my list to Santa Claus nor my wishlist on Amazon. It was, in fact, a log splitter—a tool one can use to break up logs to burn in a wood burner.
It's quite hard to appreciate something that you've never come across before, nor ever had the need for. Apple has been particularly successful inventing products we had not imagined beforehand but within a matter of months cannot imagine how we ever lived without. Henry Ford famously said, "If I had asked the people what they wanted, they would have said faster horses." Sometimes we get to witness a new product or idea that nobody else has come up with and, quite frankly, we don't yet properly understand.
That's what being at the forefront of the development of faith governance feels like sometimes. Not infrequently, stakeholders have said, "That's nice—but what do we do with it?" Everyone is busy, with a lot of things to do and many demands made of their time. So, yet another set of meetings, and with them the need to create more committees and arrange organisations to gather together, is greeted with some scepticism.
However, there are a good number of people who have seen the value of bringing faith groups, local government and local commissioners together to work on our common interests. The first Faith Covenant was signed by Birmingham Council and local faith communities in 2014. Since then a further 23 local areas have been added, meaning that over five million people in the UK are now covered by a Faith Covenant.
In its most basic form, the Faith Covenant outlines how faith communities and local government can work together. It endeavours to deal with some of the main issues of tension and misunderstanding between these two groups, and often seeks to champion a particular area of work—be that equalities, isolation, mental health, or young people.
Faith Covenants really came into their own over the emergency period of the pandemic and the resulting lockdown. They were a mechanism for bringing faith communities and the public sector together to serve the nation better. Often, this was around the delivery of food and medicines to those who were shielding, or making available locations for the vaccine rollout. Of course, partly what faith was able to do—in concert with the Places of Worship Task Force—was to emphasise to government the needs we have as humans to connect in real ways with other people. One of the many things that Faith Covenant groups often were involved in was to make sure that people were not isolated—that not only their physical needs were met, but there was a mechanism for connecting with people socially as well. The Covenant, alongside other mechanisms and forums, meant there was an avenue of communication—a pathway between officials, faith groups, and the voluntary sector, that allowed resources to be shared, mobilised and directed to those most in need.
At FaithAction, we made use of the new gravitation to online meetings to inexpensively draw Covenant areas together in the Faith Covenant Forum. This has been a great opportunity for different areas to come together and to share good practise—whether that be the accreditation of chaplains that Brighton has pursued, or the focus on social prescribing that Essex has engaged in.
The Faith Covenant Forum is also an opportunity for those who are considering adopting the Faith Covenant to come and ask questions both of us as the secretariat for the APPG on Faith and Society but also of those who are on the ground in existing Faith Covenant areas.
If you are interested in the work of the Faith Covenant and you want to hear first-hand what is going on in areas that have adopted the Covenant, you're more than welcome to make contact with us and receive an invitation for our next Faith Covenant Forum meeting which is to be held in February.
---
To register your interest in our next Faith Covenant Forum, or to find out more information about the Faith Covenant, please email [email protected]