Inter Faith Week 2021 – Seher's Story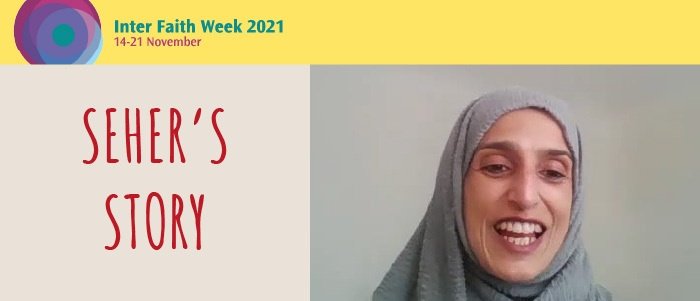 As we celebrate Inter Faith Week, and the vital contribuition that faith plays in supporting some of the most vulnerable in society, the team here at FaithAction have spoken to Seher Sheikh, founder of the Greater Manchester South Asian Women Out of Hours Support and one of FaithAction's Community Champions.
We ask Seher about why she set up the organisation, why she became a Community Champion, and what changes she hopes to bring to the South Asian community in Greater Manchester.

Well, over the last few years, even before lockdown, I found that a lot of Asian women were getting in touch with me out of hours. It was because of my previous work that I'd done in the community. I was finding that having a full time job and then in the evenings, having people calling me just showed me that these women do need someone to help them out of hours, not just in the core hours of 9-5. That was the motivation behind it, but then more so over the lockdown I found that I was supporting a lot of South Asian Women across Greater Manchester and that just made me feel that there was a service lacking there. So that was the inspiration behind it. And then when I was talking to the women they were saying, 'If you weren't there for me, I don't know what I would have done' or, 'You're a life-saver, I was on a meltdown and you supported me'. And this would be on the weekend as well. I would get a random phone call saying 'I need some support'.
What's happened is that they've felt really isolated. So, you'd have women that would send their children to school and then go to a community group. But because the children were at home in the first part of the lockdown, it was really difficult for them because they had the children at home, they were at home, they were isolated, they couldn't go out. And then of course, with COVID nobody knew what was going to happen, or you were hearing about deaths, and that was making the women feel more depressed. Having to look after the children as well as worrying about the extended family and parents, it just became so isolating for them. There was no help and no one for them to talk to, until organisations slowly started to get their act together. These organisations were all impacted and they didn't know how they were going to operate, so behind the scenes they were thinking about 'how do we reach our target communities, how do we get the messages out'. But within that 4-5 month period at the beginning of the lockdown, people were suffering in silence. I'm talking about women, because it always seems to be the mothers that are called to look after the children, the responsibility always falls on them.
I was inspired by some of my colleagues, I've worked with them for a long time and they were saying 'Seher, come on, you can set something up, you've set a youth club up, you've been running it for 4-5 years, you could set something up for women. We trust you, we're willing to be trustees'. It was just the motivation that I needed. I have got these people saying that they want to support and help me. Then one of my colleagues pointed me in your direction and I think you were a godsend, really, FaithAction. Because what happened was FaithAction came on board and I had a meeting with your colleagues and I was like 'Yes, that's it, I'm getting that support behind me'. I also had local support from Oldham Action Together and a bit of support from Manchester Community Central, but I just found that having that weekly conversation with Charlie at FaithAction just really motivated me. I knew that every week I had to be ready for something, it helped me a lot.
Yes, it says it in the title, it gives you that better chance, I must say!
Well, I just thought, I work at a very grass root level and maybe I can help get people's voices heard and influence change. Part of you guys is hearing people's voices, so you were a channel for me to feed back. As a grassroot worker on ground level, it was just so great to be able to feed things back in the report submitted at the end of the week, so that I can inform change at a higher level.
I just hope that the higher people, the government, the councils, will take on board how people have suffered during the lockdown and what are people's issues around the COVID vaccination. How they feel isolated, how it has had an impact on mental health, so that there would be more money put into mental health. I think mental health has been a big issue during the last year and a half, and it still is. You know, every week I'm hearing about stories of people jumping off bridges, that they can't cope, that students can't cope and are committing suicide. It really has had a big impact on mental health.
I'd like them to reassure people about going for their vaccination, that it's your chance to help yourself, your extended family and the vulnerable people out there. So I'm really hoping that our feedback that we've given as Community Champions will influence change at the higher level.
I just hope that organisations will realise that they must create more spaces for women, and ourselves as well. You know, now that we are set up (we've been looking for funding and are looking for funding now) that we will be able to support people accessing mainstream services and help them. And we know that things will never get back to normal as normal was, but at least we can influence change in their lives, even if it's hand holding and leading them towards services that they really need. Also making sure that support is given to young people over the summer because 6 weeks is a long time for children to be home. Especially with families not being able to travel because of losing jobs and things like that. So we just hope that we'll be able to help alongside other organisations across Greater Manchester.
We'd love to hear from you! Why do you do what you do? Why are you passionate about the work that you do and the community that you serve? Please email [email protected] or tag us on social media with the tag #whyme? and share your story.