Integrated Communities and Creative English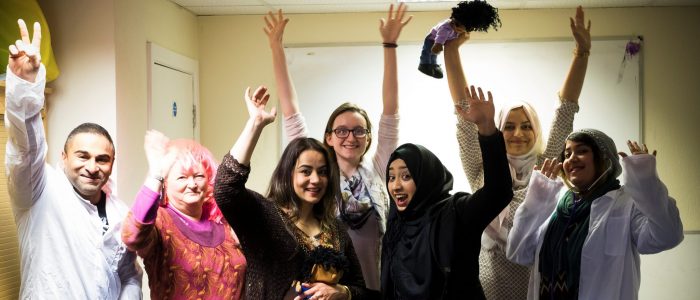 I wonder how many of you will join me in admitting that you love to watch DIY SOS on BBC1? I love seeing a house that is no longer suitable for a family's needs being transformed into a beautiful and practical home. In a recent Children In Need special, the parish rooms of St Silas Church in Blackburn were transformed into temporary accommodation for young people as part of a charity called Nightsafe.
It was great to see members of the local faith communities and volunteers from across the country coming together to support and help with a project that would make a huge difference to the lives of young people, including some tradesmen who had personally experienced homelessness and were keen to offer their skills. I am sure that the project took a lot of careful planning and management, and that it wasn't all plain sailing, but it worked!
When I watch the programme, I always think that it showcases all that is good in British society, and is a great example of what an integrated community looks like: people from different backgrounds working together to combine their skills and experience to achieve a common goal; in this case, improving the lives of vulnerable young people.
This is so important to see at a time of much political dis-unity in the country, and my hope is that whatever Government we have next month will be able to approach faith and community groups to find out what they are doing to address issues of  loneliness, social isolation, and integration as well as lead us to celebrate and build on all that is good in our communities.
Our Creative English programme is currently funded by the Ministry of Housing, Communities and Local Government through the Integrated Communities English Language Programme. Being able to speak English is key to both feeling and actually being less isolated: allowing everyone to fully participate in the community, to integrate into life in the UK, and to make the most of the opportunities available to them.
As the name suggests, we do teach English, but we try to do this in creative ways: by looking at issues that our learners face and using engaging activities that encourage learners to grow their confidence in speaking English through roleplay, games and small group work.
This year, Creative English is being delivered in 56 locations across the country to over 3,000 learners, but a Creative English session is about much more than just the confidence to speak English:
It's about the learner who brings homemade biryani to share with the group as an expression of the friendship and belonging she has found.
It's about the learner who experienced the trauma of war and of having to leave her homeland that blossoms in confidence and can start conversations in English.
It's about the learner who can have a cup of tea with her neighbour and talk to her in English.
It's about the learner who gains the confidence to tell her landlord that it is not acceptable to sublet her room.
It's about the learner who finds the friendship and belonging that helps her deal with the grief of losing her daughter.
It's about the learner who becomes a Creative English volunteer facilitator, building on her qualifications from her home country to help her pursue her dream job.
It's about the learner who says that they feel like a new person, that they feel confident and are not afraid to make mistakes when talking to their GP, and can go to the shops on their own.
I love seeing our learners flourish in their confidence to speak English, but I also love to see them bloom in other aspects of their lives: building friendships, accessing services and having fun.
I have the priviledge of delivering training and visiting hubs across the country and I love the way that Creative English sessions naturally bring a diverse group of people together – a bit like DIY SOS. This includes facilitators, volunteers, and learners from different backgrounds, countries and experiences. I believe we all need a sense of belonging and to be part of a community and I think that laughing your way to confident English through Creative English is a great way to start!