A new season brings new staff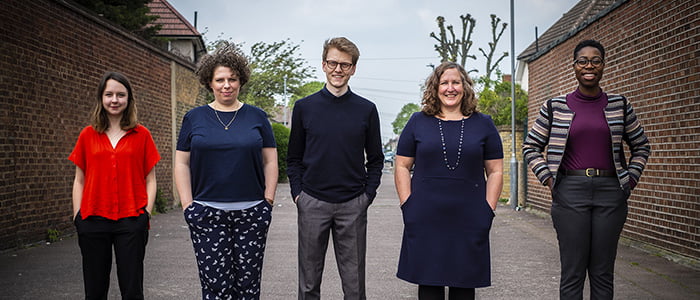 2019/20 is shaping up to be a great year for FaithAction, as we begin rolling out our largest ever Creative English programme at 55 locations across the UK, thanks to funding from the Ministry of Housing, Communities & Local Government. This also means FaithAction has been expanding again, with five new team-members having just joined us! Four will be working to support the delivery of Creative English, with the fifth bringing some additional research and policy support for Rodie.
Sadly, we've also had to say goodbye to one of our amazing Creative English trainers, Charlie. We wish her all the best as she travels and pursues further studies!
Now, let's meet the newbies!
Jessica Addo
Creative English Hub Coordinator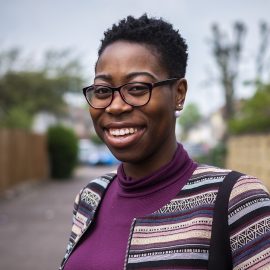 Hi! I'll be working alongside Anne and Martin on the Creative English programme. I'm very excited to be working at FaithAction. As a Christian, I have always wanted to work with a faith-based organisation and promote the perspective of different faiths through the work I do. I have a heart for the community and love engaging with people. Working with FaithAction enables me to marry my love for people with my interest in public health, mental health and health policy. Previously, I've worked with refugees and migrants, teaching basic English in a community setting. I truly enjoyed this experience and it motivated me to get in to this role. Other than people and health, I also love baking, graphic design, music and singing – so you might hear me singing, humming or whistling around the office. I am looking forward to getting to know everyone and contributing to the awesome work that Creative English and FaithAction does.
Lydia Martin
Creative English Trainer & Connected Communities Officer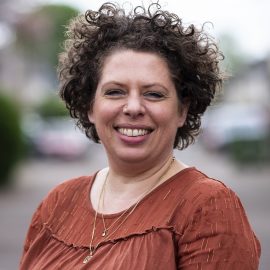 Hi! My name is Lydia. I have two 'hats' at FaithAction. One is working part-time as a Creative English trainer, mainly with our hubs around London. The other is Connected Communities Officer on an English language project with tenants and young people living in Barking and Dagenham.
I have been working in and with communities for nearly 20 years (I can't believe it's that long!) in the UK and abroad. I have run community arts projects as well as community engagement and development with ethnic minority communities.
I think working in a fun and creative way is the most amazing way to learn English, make friends and feel part of your community. I've worked on projects which did this and it's so rewarding to be part of. Hopefully you guys are proud of the work you're doing to help other people in this way.
What else can I tell you about myself? I've spent many years living abroad – mainly in different African countries. I love travelling, drawing and art generally, the cinema and reading. I love meeting new people especially if we can get to know each other over food. I will never say no if someone offers me something to eat!
I'm really excited to be part of the Creative English team and look forward to meeting you in the near future.
Jeremy Simmons
Policy & Programme Officer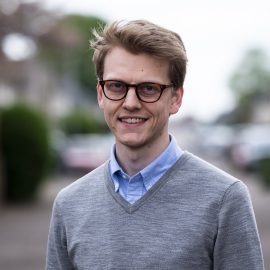 Hi! My role is Policy and Programme Officer. So I'll be working with Rodie, mainly on Department of Health work for the Health and Wellbeing Alliance. I'll also be getting involved in All-Party Parliamentary Group on Faith and Society's work, like our forthcoming loneliness project.
I joined FaithAction because it felt like the right time to pursue something different. I enjoy researching and writing, so I'll get to do more of that here.
A big bonus to working here is a five-minute commute (hehe!), as well as working in this team of wonderful people and getting involved at a time when FaithAction's influence is expanding. The idea of being involved in thinking about and shaping policy is exciting.
Bethan Illman
Creative English Trainer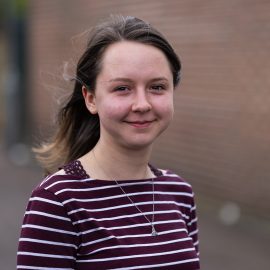 Hi, my new role at FaithAction is Creative English Trainer. I got involved with the project because the Creative English programme seemed like the perfect balance between things I've been doing previously and things I have wanted to be involved with, wrapped up in one. I am excited to be part of FaithAction for so many reasons. Most of all, I'm looking forward to seeing how volunteers and learners progress and build connections over time!
Catriona Martin
Creative English Trainer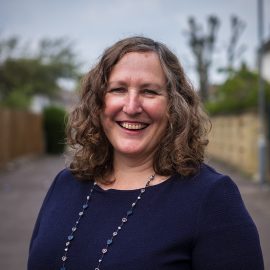 Hi! My name is Catriona (pronounced Catrina) and I am excited to be joining FaithAction as a Creative English Trainer; delivering Creative English sessions locally and training others to deliver Creative English in hubs across the country. I pursued this role because I really enjoy working with people and bringing about positive change in communities, so I am looking forward to being able to do that as part of FaithAction. I am really looking forward to meeting and working with others across the country who are all helping to make a tangible difference to people's lives in their local communities.