Love and Marriage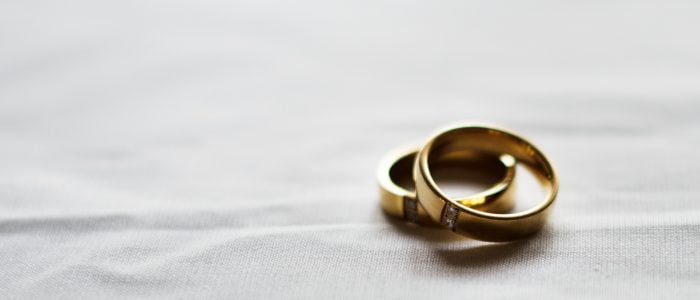 Every February 14th across the UK, flowers, gifts, chocolates and cards are exchanged in honour of St Valentine. Legends are varied: telling of a medieval poet who first established the romantic tradition and a Roman priest who performed secret weddings against the wishes of the authorities of the third century. The gruesome story goes that
"imprisoned in the home of a noble, he healed his captor's blind daughter, causing the whole household to convert to Christianity and sealing his fate. Before being tortured and decapitated on February 14, he sent the girl a note signed "Your Valentine."1
Thankfully today's celebrations will generally be much more light-hearted (if still very heart-felt)!
It was my 25th wedding anniversary last year. It was a time of celebration and for remembering some of the highs – like the births of our two amazing children… and lows such as the time when we realised we were struggling to afford our rent and had little money for food. Life takes many twists and turns and one of the key things we have had to learn is how to communicate effectively with each other – accepting that men truly are from Mars and women from Venus!
One of the keys for us has been turning to those who are older, wiser and more experienced to ask for their help in all things (including, at the time, how best to budget our tiny income!). This has mostly felt very uncomfortable, but we are SO thankful for the trusted couple we turned to, who were willing to walk the tough path alongside us.
We've each had to be willing to celebrate what the other brings to the partnership and accept that neither of us is perfect. A willingness to forgive and change has been vital – as are fun, laughter and open communication. But, from my 25-year perspective, I can say if you're each willing to put your partner first, hear one another, forgive one another and seek support to face the tough stuff, you too can arrive at 25 years ready for a real celebration.
As today's thoughts are on love and relationships, why not have a look at this round-up of resources, websites and courses available to support marriages and long-term partnerships.
The list isn't exhaustive, and has been selected on the basis of accessibility to practical, supportive content. Its' contents haven't been tested and inclusion on the list does not imply endorsement by FaithAction. These links are intended as pointers if you want to improve your relationship in an age when, culturally, relationships are viewed as expendable. In alphabetical order:
1www.history.com/news/real-st-valentine-medieval