The NHS is 70 years old this year. At FaithAction, we are celebrating the valuable contribution that volunteers and faith communities play in supporting the NHS and improving health and wellbeing in their communities.
That's why we launched the FaithAction Health Award – to shine a light on the best work undertaken by faith groups in their work to improve health and care. And we were amazed at the high quality of the entrants - faith-based organisations that are working to keep people well, and taking pressure off the NHS.
Hear Here! — Hearing Champions
Based at the Diocese of Guildford
'Hear Here! – Hearing Champions' is a partnership between four hospital audiology departments and churches in the Surrey and NE Hampshire area. Local NHS audiology staff train church volunteers in understanding hearing impairment and basic hearing aid maintenance. Supplied with batteries and tubes, these champions then offer drop-in 'clinics' in their local communities.
Over 7,400 people have attended sessions since the scheme's launch in 2013, with over 220 volunteers trained so far. Every month there are over 70 events taking place – on church premises, in care homes and even at local pharmacies and hairdressers.
Most sessions run in a café style, providing tea and a chat alongside the repairs. The trained volunteers can offer further support, perhaps signposting people to services like the Hearing and Sight Bus (the county council's mobile service), or simply pointing them to social activities they might enjoy.
For those attending – who are often vulnerable and isolated – sessions provide easy access to support for which they would otherwise have to travel to the hospital, sometimes over long distances on public transport. They're then able to use their hearing aids more often, meaning they are better able to take part in everyday life. And of course the clinic itself provides a valuable opportunity for social interaction – some attendees come back just for the companionship, even when they don't need repairs.
For audiology teams, the scheme has reduced the number of attendees at repair clinics, which frees up time for them to deal with patients with more complex issues. At one of the hospitals, the rough estimate is that the project has saved the equivalent of approximately 12 repair and maintenance clinics over the past year.
Hear Here! is helping to take the pressure off the NHS, bringing the community together and supporting people from churches to take an active role in their communities – including those who were not previously volunteering. Chosen for its cross-sector impact and community-driven approach, Hear Here! is the winner of the inaugural Faith and Health Award. FaithAction has launched the award to celebrate the 70th birthday of the NHS and to shine a light on the role that faith-based organisations are playing in supporting health and wellbeing in their communities.
Daniel Singleton, Director of FaithAction, said,
Hear Here! is such a simple idea, and one that we think could be easily replicated by other faith and community organisations. And yet this simple thing is changing people's lives for the better, which is why we think it's such a worthy winner of this award.
Tracey Wade, Sensory Inclusion Adviser at the Diocese of Guildford and Hear Here! coordinator, said,
Without aftercare for hearing aids, this wonderful tool that can help people stay engaged with life is useless. Some people are also struggling with the emotional side of hearing loss – for people to stay truly well, they often need extra support, and that doesn't have to come from the hospital. Hear Here! shows how a partnership with other organisations like churches can work in practice to improve wellbeing.
This is only the beginning for Hear Here! Later in 2018 the project will start lip-reading classes within parishes as a further way of helping people with hearing loss to stay connected to those around them.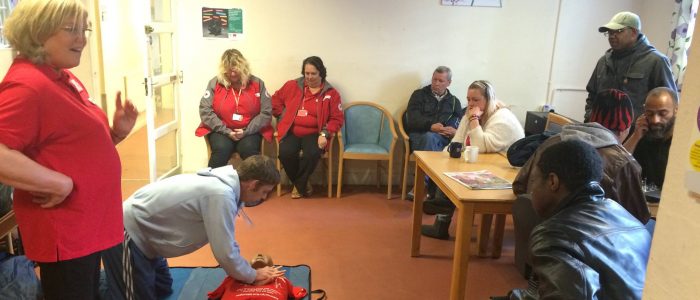 Luton-based NOAH Welfare Centre runs drop-in services for people who are homeless or vulnerably housed, helping them find practical solutions that will empower them to move on to independence and employment. It takes a holistic, non-prescriptive approach: the staff get to know people and work to ensure that they have the best possible opportunities to address the issues that they face, under one roof.
In addition to a soup kitchen, run by churches and volunteers from across Luton, the services available at NOAH's Day Centre include on-site surgeries provided by local GPs, a visiting dentist and addiction workers, and free legal services. The local mental health service runs a weekly clinic, which has enabled people to use hospital and rehabilitation services they would not otherwise have accessed.
The centre has also worked with the public health team to run health checks and TB screening for vulnerable rough sleepers, which have enabled people with previously undiagnosed TB and other health issues to receive treatment. NOAH also has evidence that its service users who benefit from this support are spending fewer nights in hospital and making fewer visits to A&E. An external study by Cranfield University found that for each £1 invested in NOAH welfare services £9.8 of social value was generated to positively impact society.
In the fiscal year 2017-2018, the centre has helped 89 people into accommodation, 39 people to avoid eviction and 71 people into work. The centre works in partnership to communicate with Luton Street Pastors and SOS Bus (a mobile first aid unit), and over the past winter they provided an emergency overnight shelter in a church hall for 130 people over the course of 58 nights who would otherwise have been sleeping rough during the coldest months of the year. This represents a sizeable health benefit in terms of preventing potential hospital admissions due to hypothermia.
NOAH is a multi-faith organisation with a Christian emphasis at its core. Its strong relationships with churches and mosques in the locality means the centre has developed a 'safe structure' within which organisations wishing to start their own soup kitchen, for instance, can visit and either learn from NOAH's experience or begin to partner with it in delivering its services – so avoiding duplication.
It was this connection and willingness to share expertise with other faith groups that made NOAH's entry for the Faith and Health Award stand out. It's clear that the centre is playing a crucial role in helping some of the people who would normally struggle the most to engage with mainstream services, enabling them to tackle issues early on through primary rather than emergency care. And it has a clear ethos of care, to help people feel that they are valued and have a future – which in itself can change lives.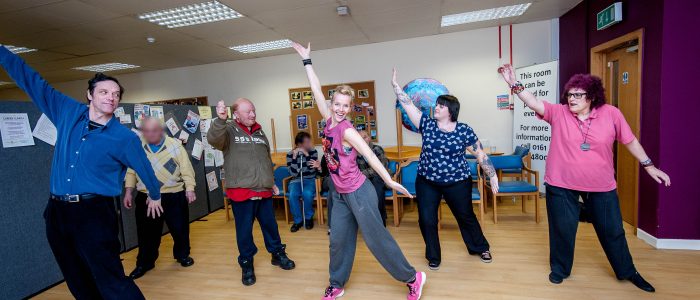 The Fed has been providing social care support to the Manchester Jewish Community since 1867. It runs a range of services, including social work, supported housing, mental health support, support for carers, groups for children with special needs, and residential, nursing and day care.
The Fed also runs a café project: the Purple Room Café. This offers a weekly drop-in afternoon for adults of all ages, but particularly supports Jewish people who are lonely or isolated. The café provides a warm, welcoming environment for refreshments and a chat, with an opportunity to make new friends or rekindle past friendships, as well as enabling people to access information and advice on a range of subjects such as benefits, housing, parenting, health and strategies for living with long-term conditions such as dementia. Staff and volunteers provide a listening ear to anyone experiencing stress or illness, and can also signpost people to other sources of support. Other projects are also offered, which provide access to the NHS, Citizens Advice and the Samaritans, along with a range of information and advice on health, parenting, benefits, and more.
The health benefits of a space like this are becoming increasingly well recognised, and centre on a reduction in social isolation and loneliness – with a positive impact on physical and mental health. Many service users describe the café as a lifeline, without which they would struggle. Offering people connections to others in their community is key, as many do not have family locally and some who attend have no other social contact at all.
The Purple Room Café also runs religious and cultural activities, such as celebrations of Jewish festivals, which some people would not otherwise have the opportunity to take part in. The organisation has a very broad spectrum of Jewish observance among its users; some of them have told staff how important to them it is that they know that their faith is properly understood, and that they will not be judged by those who run and attend the service.
The Fed undertakes annual social accounting and audit to measure the impact of its services. In 2017 57% of the beneficiaries of the Purple Room Café said that they now felt less likely to need to see their GP as a direct result of the support offered to them by the café. They reported that it helped reduce feelings of loneliness and helped them to live a more productive and confident life.
It's this commitment to providing evidence for its effectiveness that made the Purple Room Café's application for the Faith and Health Award stand out, along with the fact that the idea is a simple one, which could be replicated by other faith-based organisations. The Fed would like to increase its connections with the NHS and be able to offer social prescribing, so that GPs can refer people to its services if they could benefit from community support – and we hope that the Faith and Health Award will help them to do this.
The Dairy House, run by the Elim Connect Centre, is a hostel for rural rough sleepers in the Mendip area. It provides support and wrap-around services for its residents – most of whom have multiple and complex needs – to enable them to move on to next stage accommodation and not back to homelessness. Residents reduce their use of A&E services and are supported to access GP and other treatment that helps them stay healthy; they are also less involved in anti-social behaviour. The support continues into the long term, with peer mentors and volunteering opportunities part of the offer that keeps people making progress. The work is powered in large part by volunteers – the CEO says,
It would be impossible to deliver the work we do at the Dairy House without this growing and dedicated team who give sacrificially of their time and energy.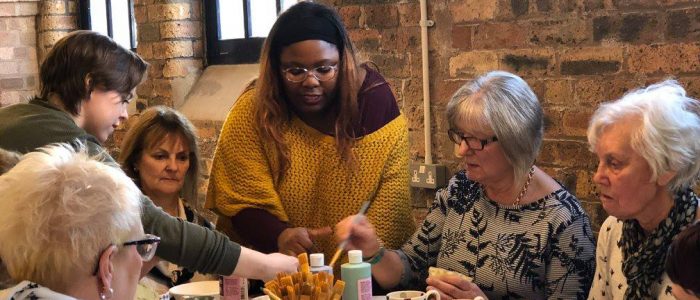 CareLink, run by charity Saltbox, uses telephone befriending to support people over 50 in Stoke-on-Trent who are struggling with the effects of loneliness and isolation, to keep them healthy and independent in their own homes for as long as possible. When the volunteer befrienders pick up on a concern, they involve experienced staff who can intervene to prevent a problem becoming a crisis. In this way, CareLink estimates it has saved the NHS £957,330 to date, against the £385,000 it has received from the NHS Clinical Commissioning Group. The charity's links with local churches means there is a strong infrastructure for recruiting volunteers, and they benefit too, according to the Team Manager:
Some have previously been users of the service themselves, and others have suffered from ill health, or personal challenges such as bereavement, so for them, volunteering is a pathway to wellbeing, and for some a way back into employment.
Become a FaithAction member to receive our weekly e-news straight to your inbox and ensure you're the first to hear about opportunities like this in future!
What's more, you'll get a round-up of all the weeks' important news, events, consultations, plus the latest funding on offer too!