FaithAction Report: The Impact of Faith-Based Organisations on Public Health and Social Capital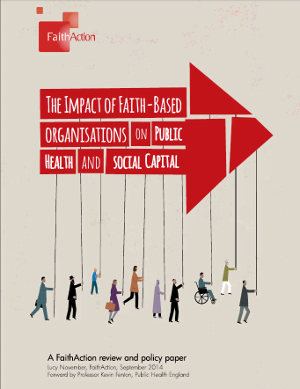 This new FaithAction report is the first of its kind in the UK. It brings together evidence around the reach of faith-based organisations (FBOs) and their impact on health and wellbeing, by drawing on published literature.
As a network of FBOs, FaithAction knows that there are many faith groups up and down the country doing health-related work in their communities. However, the value of this work is in danger of not being recognised, both by the groups themselves and by policymakers, in large part because there is a lack of evidence around what is taking place and its effectiveness.
The challenge
This can be summed up in three key sets of issues:
First, while FBOs by no means have universal reach, they do reach communities that might not be benefiting from public services. Faith groups need to recognise that this access gives them a role to play in improving health and wellbeing.
Second, there remains at best uneven recognition within policy that the faith sector has the potential to be an agent for change and a partner in service delivery.
Third, there is a lack of evidence as to the kind of interventions that might be effective and how these might best be delivered with and through FBOs.
What's in the report
This report is a first step in addressing these issues. It uncovers evidence on the current and potential involvement in public health of FBOs in the UK and elsewhere, highlighting what works as well as gaps in research and practice. It also highlights innovative practice that seems to be having an impact.
From this, the report explores the current and potential role of FBOs and communities in addressing and preventing poor public health outcomes and supporting other areas of wellbeing. It makes recommendations for greater collaboration between FBOs and statutory bodies, including the public health system.
The report is designed to be a starting point for FBOs and public health bodies. We hope it will spark interest and enthusiasm among faith groups as to how they can help to improve health and wellbeing; and that it will support policymakers to broaden their range of approaches, with confidence that there is evidence to support the involvement of faith in public health and wellbeing.
To order a printed copy, please contact us.
FaithAction Symposium on Faith and Public Health
The report was launched at a Symposium on Faith and Public Health on 25 September.
We have produced a summary of the day tailored for Directors of Public Health. A summary of the discussions and presentations from the day are also available.