Equality: Creating a Just Society – A Bahá'i Perspective
Date

Monday, 9th November 2020

Time

6:30pm
As part of Inter Faith Week, there are some forthcoming Bahá'i events.
The first is on Equality: Creating a Just Society – A Bahá'i Perspective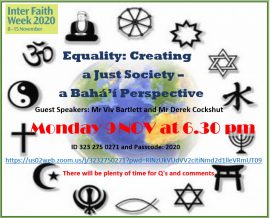 To join, please use the Zoom ID 323 275 0271 and Passcode 2020.
The Speakers:
Viv Bartlett
Born in Cardiff, Viv Bartlett began searching for answers to life's problems after a tragedy struck, when his 14-year-old younger brother accidently electrocuted himself. Finding answers in religion he became a member of the Bahá'i Faith in 1966. After serving an engineering apprenticeship in 'Tiger Bay' Cardiff, later travelling the world as an engineer in the merchant navy.
Viv has authored three books, with a fourth in process. He has travelled extensively lecturing on the Bahá'i Faith. His beloved wife, Rita, died of cancer 7 years ago, prior to which they parented three children and were foster carers.
He is a founder member of the Swindon Young People's Empowerment Programme (SYEP), a programme inspired by Bahá'í Teachings to help vulnerable, disaffected young people. A total of 27 primary and secondary schools have employed this programme. He was a Bahá'i representative on the first Interfaith Council for Wales established in 2003 and still serves on this body.
Derek Cockshut
Derek was born in Lancashire where his family roots  trace back over 300 years. The family were not particularly religious, however he developed an interest in his early teens in religions. In 1961 he heard of the Bahá'í Faith but did not investigate and confirm his belief until 1963. He served on a number of appointed committees for the UK Bahá'í Community from that time.
Derek and his wife Sima with their young family moved  to Mexico  as pioneers to assist the Bahai Community there. They later moved to the United States , in 1986 they were asked to assist in the operation of a Baha'i Conference Centre and Retreat in Northern California,  Derek was appointed as Scholar in Resident creating among other things courses to study the major religions. Derek was asked to be the host for a TV Show 'Reflections of Unity' he hosted over 200 shows covering a wide range of subjects winning a national award in the United States. He has developed two specialized studies of important Texts in the Bahá'í Faith. His research on the religion in the UK discovered the earliest public presentation of the Bahá'í Faith, at the noted South Place Institute London in 1892, which at the time in Victorian England was a major platform for inter-faith knowledge and understanding.